Designing large rural properties is always exciting – the expansive landscape brings a sense of freedom and flow that we just don't get with inner city blocks. In the case of our garden design in lush, mountainous Buxton this freedom was somewhat restricted due to its location falling within a Bushfire Management Overlay (BMO). The BMO is applied to land with the potential to be affected by extreme bushfires. The guidelines had to be rigorously followed in our design to ensure that bushfire hazards such as vegetation, slope and site access were assessed, and that bushfire protection measures are put in place to manage risk.
Our clients, a professional couple with fast paced careers, reside in Melbourne during the week. They purchased their 10 hectare property as a country retreat, a way to recharge by escaping the everyday hustle and bustle of city living.
They came to us looking for a design that not only looked good (and was compliant with the BMO) but that would be low maintenance and non-labour intensive. Their goals were to enhance the living space around the perimeter of the property (for us to design the 2 acre 'house paddock' and the driveway) whilst amplifying the spectacular views of the surrounding Cathedral mountain range. Our design approach was to complement the modern architecture of the home whilst keeping in mind that it is a holiday destination and to not overcapitalise.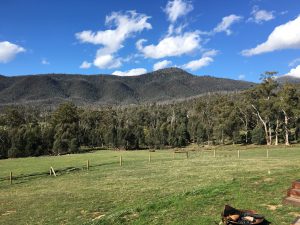 The BMO was restrictive in terms of achieving an optimal aesthetically pleasing garden. The position, proximity and eventual size of trees were dictated with constraints on canopy overlap. To build the aesthetic qualities, ground covers, grasses (such as Panicum virgatum) and hedges are planted en mass to replace trees surrounding the home, screening the water tank, shed and other hardscape elements in the process. Maximum view exposure was well considered in the garden design process, ensuring the best pairing of species to compliment setting, in terms of height and compatibility.
In keeping with the rural country feel, our clients requested a modern, contemporary style garden that had elements of rustic, earthy accents. We designed rammed earth retaining walls for the entry gates, a feature that will carry through the main garden zones. The walls' purpose in the main garden is to inhibit a view, to create anticipation of what's to come in the next garden area. We always design to keep a visitor guessing – what's next?
Next, we designed a streamlined, modern pavilion with an outdoor kitchen and entertaining area. This open space will be a lovely relaxing space to spend with friends and to soak up the majestic mountain views. When designing this landscape it was vital that we complement the natural surrounds rather than compete against them. Hardscape elements and planting are intended to be the support act to some of Mother Nature's best.
Now that the design is complete, we are assisting with the construction tender and we can't wait to see our vision come to life. This project is sure to give our clients the piece of paradise they so richly deserve – and possibly make those that visit a little envious in the process.