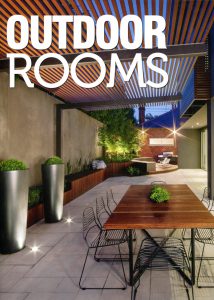 If you're thinking about adding an outdoor room to your garden design, pick up a copy of Outdoor Rooms Magazine, to get some inspiration from some of the best landscape gardeners in the industry. We are very proud to have two of our Melbourne gardens showcased in the magazine – our Balwyn garden on page 93 in 'Made for Entertaining' and our 2013 Melbourne International Flower & Garden Show Garden on page 121 in 'The New Wave'.
Our Balwyn garden shows how you can create an ambient outdoor living area in a small space. The garden design includes a raised Australian hardwood deck and a matching hardwood open pergola adorned with ornamental grapevine. With a built in seat and BBQ, a pizza oven, customized artwork and a gorgeous array of plants, this garden has everything you could want in an outdoor space!
For those who love contemporary design and a garden with plenty of flowers, our 2013 MIFGS garden 'The New Wave' demonstrates how to pair a naturalistic plant focused garden with a sleek hardscape, to create a seamlessly integrated space. The garden features a covered bronze pavilion flanked by areas of lawn and paving and overlooking a tranquil black reflection pond. A spectacular mix of flowering perennial plants in blush tones surround the garden, softening the hard scape and creating a welcome space for people to connect with nature.
To read more information about each garden design in Melbourne, pick up a copy of Outdoor Rooms, on sale now!