Our Job of the Month for September is the St Kilda project, which is currently under construction and coming along very nicely! We have really enjoyed seeing this project take shape from the design stage through to construction and are very excited to see the final product as the garden nears completion.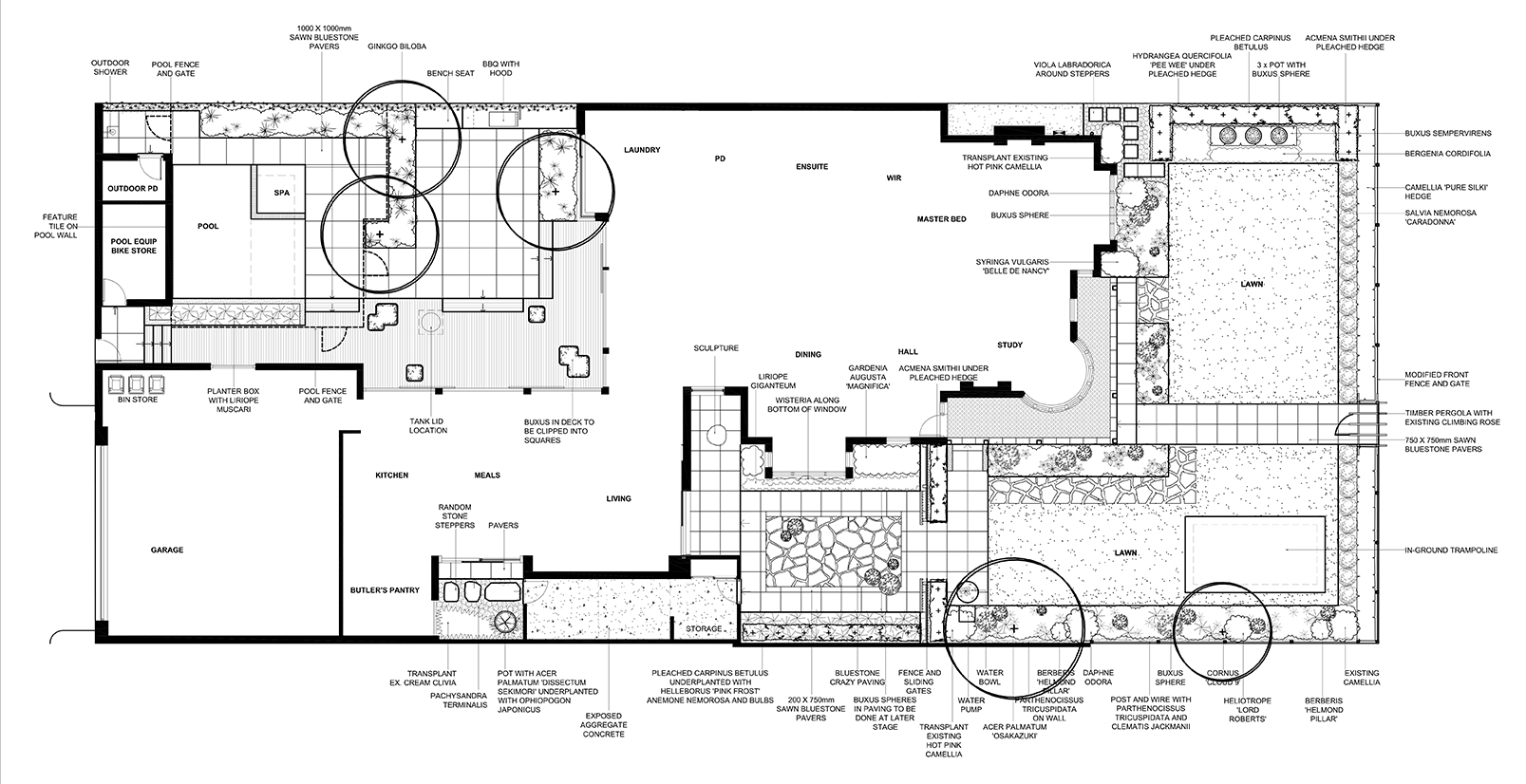 Masterplan for the St Kilda project designed by Ian Barker Gardens.
We love working on jobs like this that have a creative team involved in all aspects of the project, including an architect, interior designer, builder, and of course landscape designers. When all parties are detail focused, the end result can be truly spectacular. We believe this is definitely one of those jobs!


Above images have been sourced from google and are indicative only.
From a design perspective, we have enjoyed this project because there are different areas of the garden that have very distinct and varying styles. The front garden is quite traditional in layout, as we are working with the architecture of the original house. The material palette is quite restrained, featuring bluestone paving in both large square format and also broken up into crazy paving and placed through the lawn. The planting is soft and romantic with perennials and shrubs in soft pinks, mauve and white. We have used buxus spheres, formal hedges and pleached trees to create a structured backdrop for the perennials.

Hand drawn perspective sketch showing the fish scale tiled feature wall, foliage focused planting beds and floating concrete benches in the rear garden at our St Kilda project.

The architecture of the back of the house is very strong and contemporary, so the style of the rear garden needed to reflect this. The planting beds focus more on foliage textures than flowers, and the beautiful Gingko Trees were chosen for their sculptural leaf and shape.
Floating concrete benches and large bluestone paving match the contemporary style of the architecture, while the wall behind the pool is tiled completely in blue and green ceramic fish scale tiles, creating a spectacular feature for the space.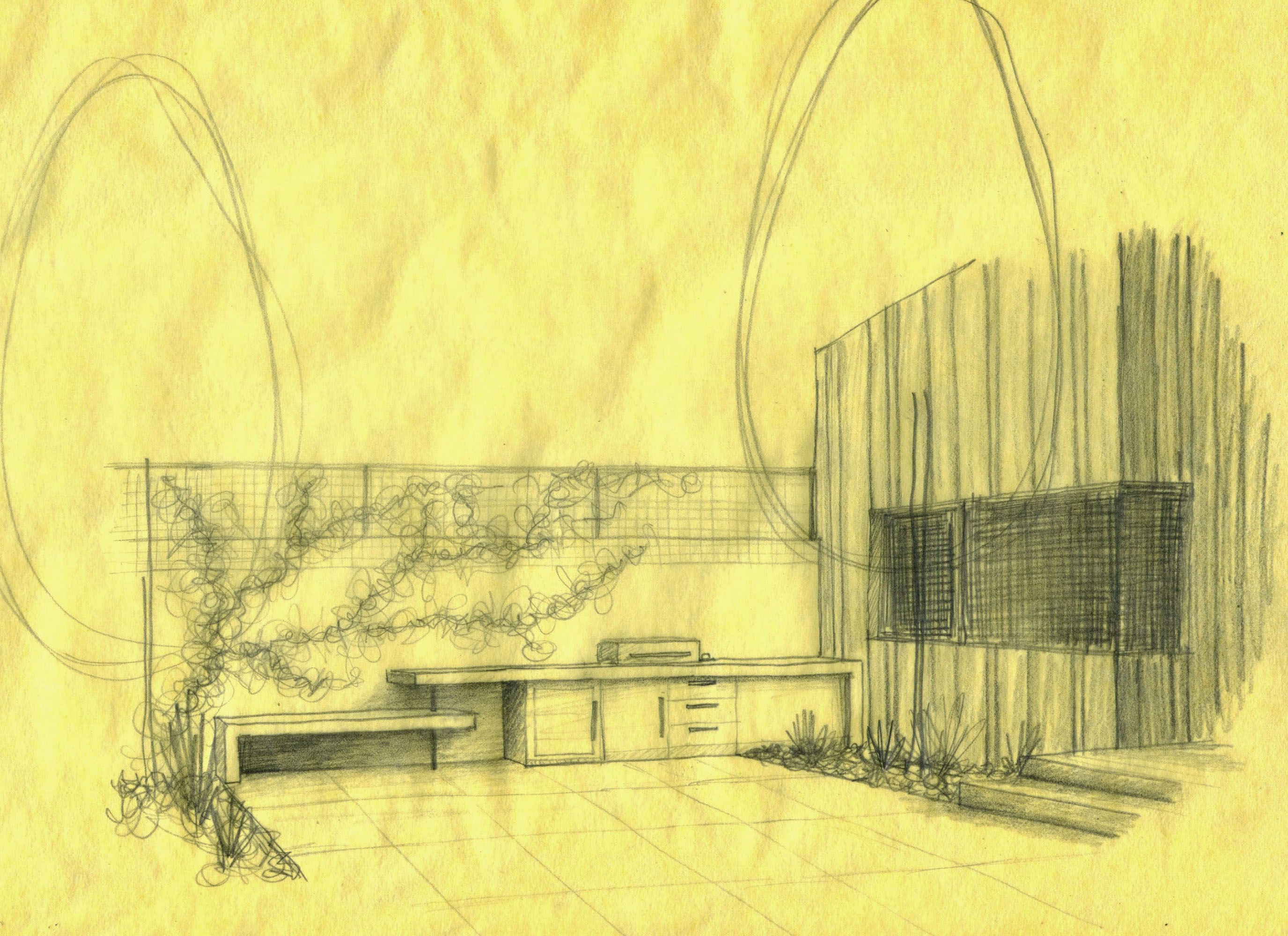 Hand drawn perspective sketch showing the BBQ area in the rear garden at our St Kilda project.
With the Gingko trees now craned in to place and the plants recently arriving on site in St Kilda, the whole team are really looking forward to seeing this garden come to life! Stay tuned for more updates as this exciting project is completed and the garden begins to grow…
Keep scrolling to see some recent images of the garden coming together….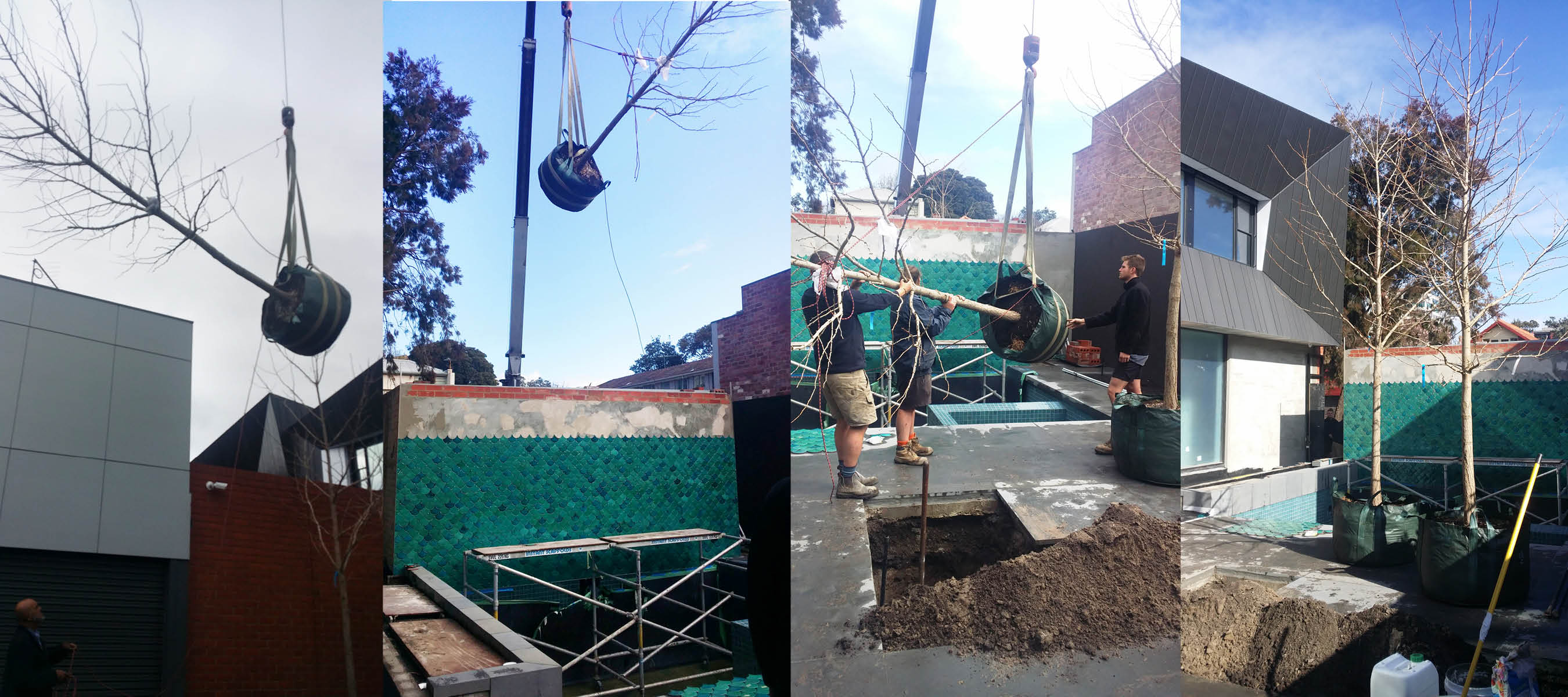 The Gingko trees being craned into place.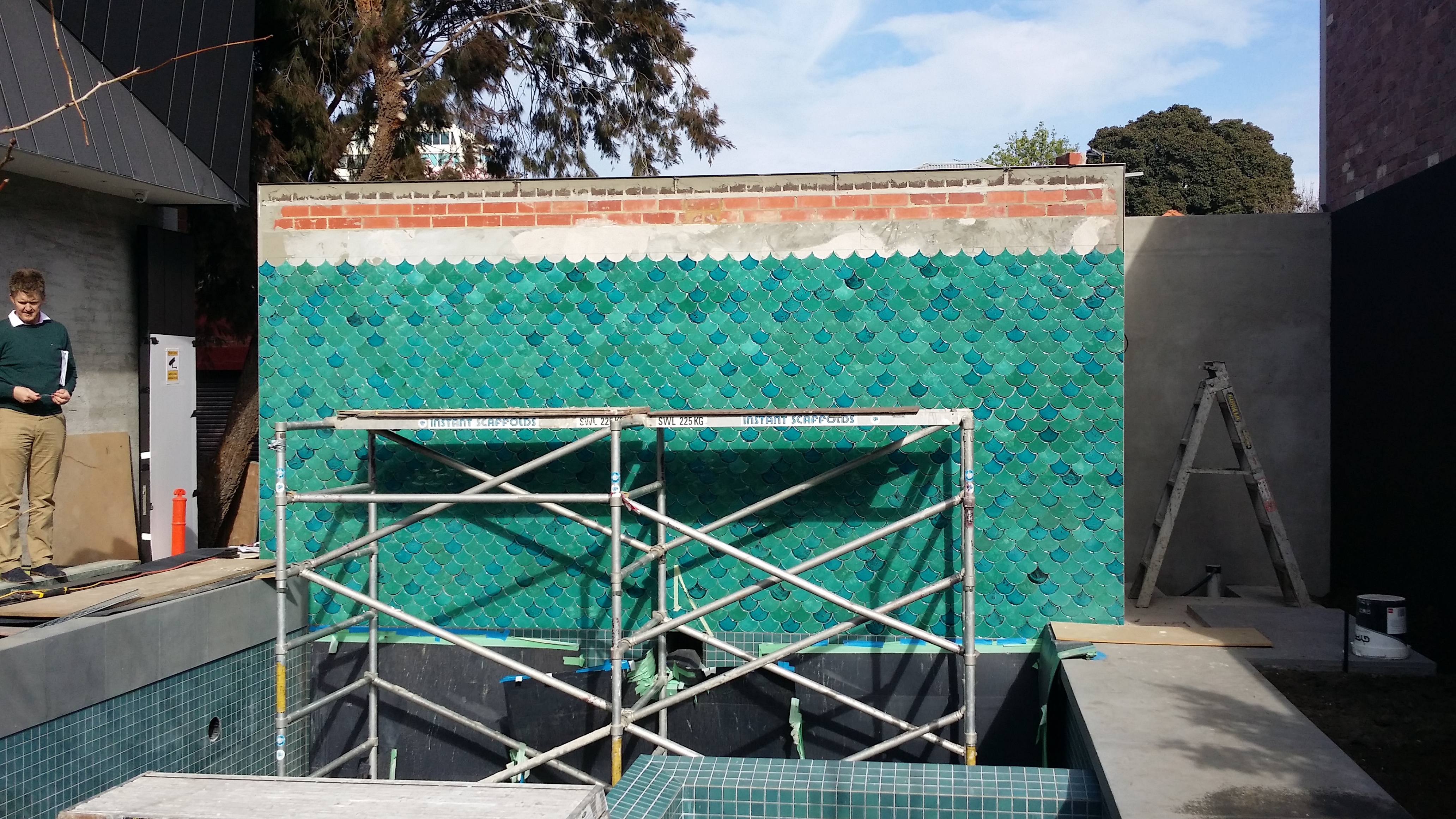 The spectacular blue/green ceramic fish scale tiles on the feature wall beside the pool.


The contemporary architecture at the rear of the house.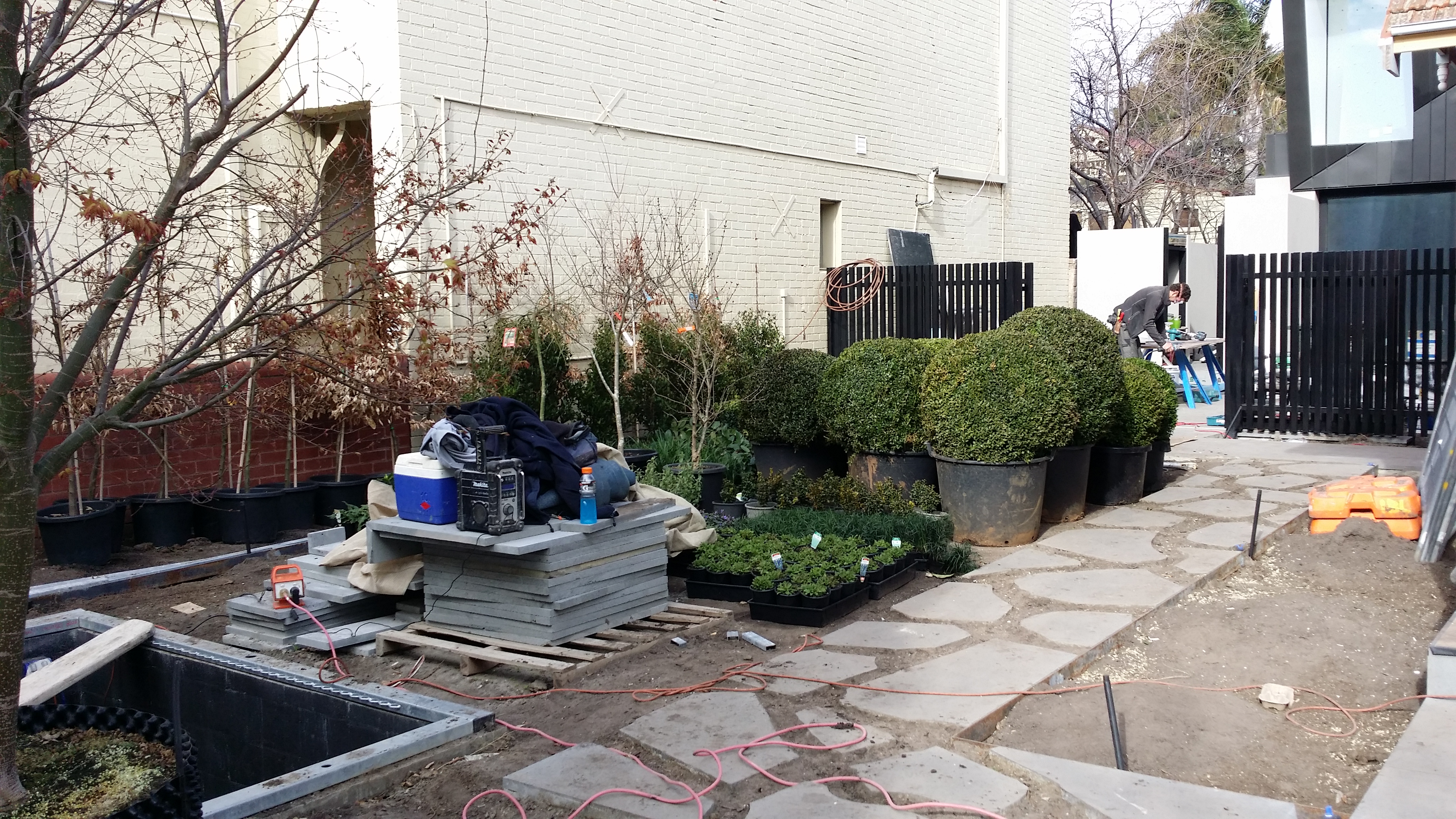 Bluestone crazy paving going through the lawn.


Traditional front facade of the house.


A plethora of plants arrive on site.


Buxus spheres, formal hedges and pleached trees will provide a structured backdrop for the perennials in the front garden.