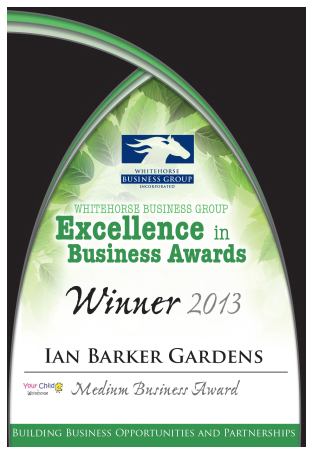 The Whitehorse Business Group's Excellence in Business Awards were held last Friday night at the Box Hill Town Hall, and after being shortlisted as finalists, we are proud to announce that Ian Barker Gardens has won the 2013 Medium Business Award!
This is a fantastic achievement for the company as a whole and for all of our wonderful staff who each individually contribute to our successes with their hard work, dedication and passion for the industry.
It is always a thrill to be recognized for our achievements in landscape design and construction, but I have to say, we are extremely proud to be recognized by our community as business leaders. It means a lot to all of us!
We would like to say a big thank you to the Whitehorse Business Group, as well as all the sponsors who make theses awards possible. In particular, we would like to thank David and Jennifer Thompson from Your Child in Whitehorse (the Whitehorse community family magazine) who kindly sponsored our award.
– Ian