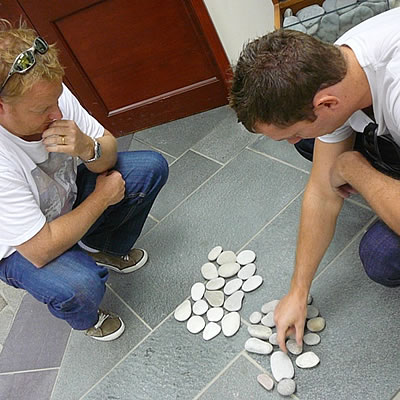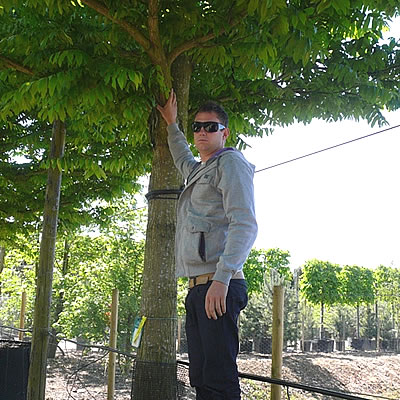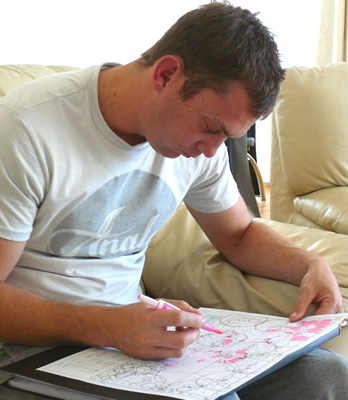 The last two days have been spent taking care of the red tape at the Chelsea Hospital (collecting our passes, ground rules, OH & S etc), sourcing a last minute chandelier and visiting nurseries to check on our plant selections. So far we've experienced a mixed bag of ups and downs. I have found some lights that could be used under the canopy; while not perfect, they would do if I don't come across "the" answer in the next week or so. We've visited CED who are the largest supplier of natural stone and aggregates in the UK to select pebbles. I had chosen a pebble last year but wasn't entirely convinced with my selection. Turns out it was a good thing we did go back, because I did end up modifying the pebbles slightly and am now over the moon with the combination.
Next up was a trip to Majestic Trees to look at the specimens I hand selected last year. This was, to put it mildly, more than nerve-racking. I chose the trees almost six months ago, and although I knew they would be ok, there was a little voice in the back of my mind that whispered "what if you see them today and don't like them anymore?". Thankfully, once there the trees looked amazing. Great size and shape and well and truly in leaf. The first negative for the day was my Magnolia soulangeana 'Alba'. Last year I saw this magnificent tree in Kew Gardens, standing proudly with both its flowers and foliage in full display in the month of May. I decided then and there that it would be perfect in the 2012 garden. However due to England experiencing it's hottest April on record most plants are about one month ahead of their normal season and my tree is in flower right now.
We had a similar conversation at the Aquatic Nursery – the bitterly cold English winter of 2010-2011, followed up by the warmest April on record had caused some of my aquatic specimens to bloom early too. I guess the consolation is that everyone will be in the same boat – luckily most of the aquatic plants have been inside growing tunnels, the only casualty here being the water iris's but we are comfortable we can get them elsewhere. We have heard from our supplier in Italy that they have them so maybe I'll have to take a trip down there to see them first hand; I told Wes I really can't tell from photos!
Rather than stressing about these issues I have resigned myself to the realities, and am trying to think positively – even in the face of an even bigger disaster which raised its ugly head today. British customs have decided to X-Ray one of our containers, so even though they only want to look at one of them, they hold on to both. This is not a first in the history of Fleming's bringing an Australian Garden to England, and makes the likelihood of the team being on site this Friday with no containers, no tools, no materials, no nothing – very high. Believe it or not, I have past experience in a situation like this – a traffic issue meant the containers for the 2008 Chelsea Garden didn't arrive until the end of day one. I led the construction that year so I know firsthand the generosity and great camaraderie that occurs at Chelsea so I have no doubt that whatever happens we will be ok. I should say that if the worst case scenario does happen we have a plan B, but let's hope we don't have to use it.
Keep your fingers crossed.
-Ian