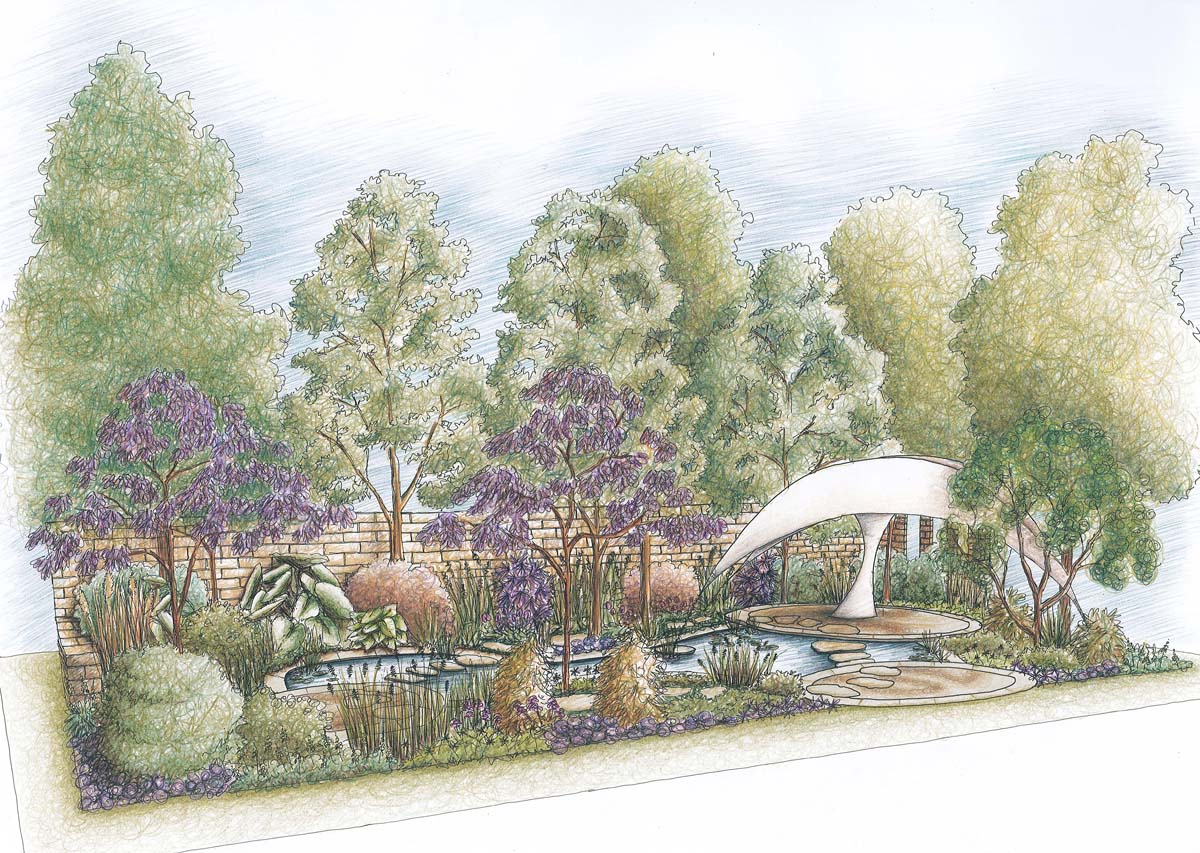 As the preparation for the Chelsea Flower Show ramps up I have noticed that people's interest is often sparked by the link between Joseph Banks & Australia, and in most people's minds this often revolves around the botanical discoveries he made on Australian soil. My garden at Chelsea celebrates the entire journey that culminated in landing on Australia, but also traces the footsteps of the voyage that circumnavigated the globe.
This piece was written to appear in British magazine 'The English Garden', and I hope after reading it you will have a better idea of what I am hoping to achieve at the Chelsea Flower Show in 2011.
The Endeavour Garden
Early in my career I spent three and a half years living in England, and part of this time I spent working in the Fulham Palace Garden Centre in London. This helped nurture a deep appreciation of English style gardens, and as my career progressed I continued to be influenced by formal gardens and traditional planting styles. In an Australian context and especially in my home town of Melbourne which is considered a "garden city", the English influence is everywhere. We have the foresight of our founding fathers to thank for the beautiful system of parks and gardens that give this title to Melbourne, and Australians are known worldwide for their love of gardens both at home and in their broader environment. We have always been influenced by the English garden, because it's methods and principles will always be appropriate in Melbourne, above and beyond fashionable trends and popular styles.
Being a lover of English gardens, it was difficult for me to ignore their influence when I was deciding how to approach the design for the Chelsea Flower Show in 2011. While my career's work does include native gardens, lifestyle gardens and contemporary gardens, what I really love to do is design traditional gardens and use formal design principles. And it was important to me to do what I enjoy most for the Flower Show, as nobody would deny that you get the best results and have the most fun when you are doing something you love. The next challenge was to find a link between England and Australia that allowed me to explore these principles, while at the same time honouring what the Trailfinders 'Australian Garden' presented by Fleming's Nurseries is really about; and it was Sir Joseph Banks that provided me with a momentous opportunity. My design brief endeavours to combine the spirit of adventure that is synonymous with the Trailfinders ethos with a celebration of the global horticultural industry and the wonderful new plants that are discovered and promoted by the passionate minds behind Fleming's Nurseries. The brief is fulfilled by the powerful link between England and Australia provided by Sir Joseph Banks, and when each factor is combined it has allowed me to stay true to myself as a designer and present something that I am deeply passionate about and receive immense joy from doing.
The connection between Sir Joseph Banks and Australian flora is well known, but his botanical discoveries influenced garden design and plant cultivation throughout England, Australia and beyond. His broader influence has been powerful and far-reaching, but is sometimes forgotten in the shadow of the major discoveries he made in Australia. In choosing Sir Joseph Banks as my major inspiration I am therefore nervous that there will be a great expectation that his most famous Australian botanical discoveries will feature prominently in the Chelsea garden. The reality is, that the 2011 Trailfinders 'Australian Garden' presented by Fleming's Nurseries is a celebration of all Banks' discoveries and the huge influence he has had on botanical and horticultural investigation over the last two hundred years, with the emphasis placed on plants in general as opposed to particular species of importance.
Sir Joseph Banks was an English naturalist, botanist and patron of the natural sciences. One of his greatest botanical legacies is his Florilegium, which documents a collection of over 700 botanical specimens collected by Banks and his team on the first of James Cook's voyages of discovery through South America and the Pacific regions, including New Zealand and Australia sailing on the HMB Endeavour. While Banks is most commonly known for the discoveries he made in Australia and his introduction of key Australian species into the Western botanical world, the entire collection of specimens collected by Banks that returned on the Endeavour voyage have been hugely influential in botanical history. Over 30,000 plant specimens were brought back to England, representing 3,600 species of which around 1,400 were then new to science. Banks and his team would collect specimens wherever the voyage made land, so within the collection were plants not only from Australia, but also from New Zealand, Tierra del Fuego, Java, South Africa, Madeira, Tahiti and Brazil.
Banks was also one of the founding members of the Horticultural Society of London in 1804 (now the Royal Horticultural Society), an institution dedicated to the improvement of horticultural practice and the collection of plant information. The techniques used by Banks to collect plant, animal and insect specimens from around the world on the Endeavour voyage were adopted by naturalists and scientist all throughout Europe. Later in life, while he did not hold an official title or position, Banks provided advice to King George III on the settlement of Botany Bay, and in this manner became one of the biggest advocates for settlement of Australia.
The vastness of the botanical collection from the Endeavour voyage and Banks' subsequent patronage of botany and horticulture in England has made him a hugely influential character. Some of the plants that were discovered on the Endeavour voyage by Banks are now so common in English gardens and garden design that they are almost considered "English". On my recent travels researching plants for the Chelsea Flower Show, I was lucky enough to visit some incredible historic gardens across England. I was thrilled to discover plants like Gunnera magellanica (Dwarf Rhubarb), Viola hederacea (Ivy-leaf Violet) and Arthropodium cirratum (New Zealand Rock Lily) featuring in these gardens; just three of Banks' discoveries from the Endeavour voyage and all of which feature in his Florilegium.
As a garden designer, there is a temptation and sometimes even a tendency to place all your emphasis on the design of spaces. When I visited the Chelsea Flower Show in 2008, I was completely blown away by how much care and importance was placed on plants; their selection, placement, variety, significance and beauty. It sparked a passion that remains with me, and that passion is something that I am hoping to express at Chelsea this year. Sir Joseph Banks had passion as well, and above all he epitomises what gardeners around the world still love to do. Banks called it "botanizing", and all around the world gardeners continue to find new plants and bring them home to their gardens to see if they can get them to grow. The 2011 Trailfinders 'Australian Garden' presented by Fleming's Nurseries celebrates a love of botanizing and I am thrilled to have the opportunity to be involved in and promote something so wonderful.