This month we are very excited to share with you our Miners Rest project, a large rural property with plenty of potential. The concept plans for this exciting project were presented to the clients a few weeks ago and received very well. Our design team are now working to finalise the masterplans so that this beautiful garden can get underway!


The concept plan for our Miners Rest project designed by Ian Barker Gardens.



Above images have been sourced from google and are indicative only.
Once completed, this garden will be a truly special space for our clients. The design is quite structured, but with plenty of beautiful naturalistic planting included to soften any hard lines and create a spectacular garden oasis. Our design team have focused on creating view lines throughout the garden and divided the space into distinct sections, which all integrate seamlessly with each other.
Between many of the structured areas we have played with using mass plantings, creating patterns and using curved paths. On both the East and West side of the 'Great Lawn' (the large central lawn area bordered by manicured hedging) there will be meadows with curved lawn paths which will allow for the clients to meander through or sit and relax while enjoying the beautiful naturalistic planting around them.
At one end of the garden will be the 'Salvia Wave', an area of waved hedging surrounded by mass plantings of Salvia in three colours. At the opposite end of the garden, beyond the border created by 'The Long Walk' and leading up towards the exisiting vegetable garden, will be a playground for the children, a rose covered arbour, an orchard and a covered entertaining area.


Beautiful hand drawn perspective sketch by our Design Manager Bethany Williamson showing the 'Great Lawn' and surrounding garden areas at our Miners Rest project.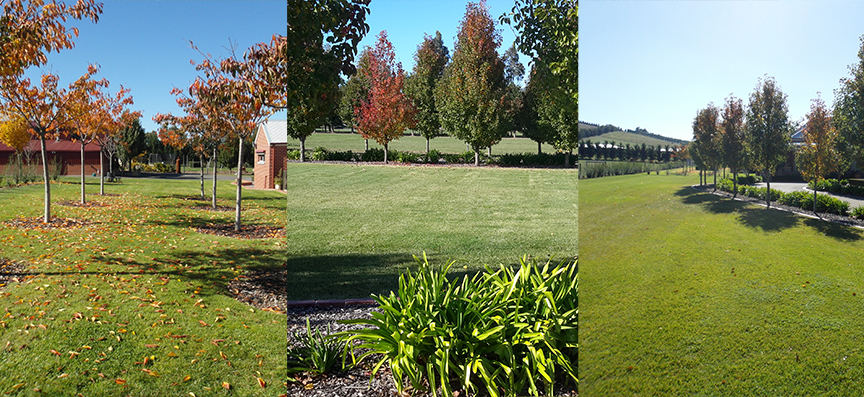 The above series of images shows the existing garden at this magnificent rural property in Miners Rest, which is about to be transformed by Ian Barker Gardens.
We love getting the chance to work on gardens of this scale where we start with a blank paddock and get to build up the design from scratch. The whole team are really looking forward to seeing this garden come to life! Stay tuned for more updates as this exciting project develops….