Ian is often asked what he'd do if it was his garden, so back in 2018 we turned the spotlight on him to share his personal style.
In 2007 Ian decided to take all of his learnings over the past three decades and design the front and rear landscape of the Surrey Hills unit he was living in at the time with his beautiful wife and son. Armed with years of experience and knowledge, this was a great opportunity for Ian to really play with different styles, textures, proportions and colour schemes.
A humbling size at only 300sqm, it was imperative he maximised the area available and made it feel as spacious as possible.
The primary brief for the front garden was to disguise the façade of the 1970s brown brick home and this was achieved by designing a low maintenance geometric garden with a modern feel. Each shaped area was designed to focus on the planting and ensuring the right balance in colour, height and texture.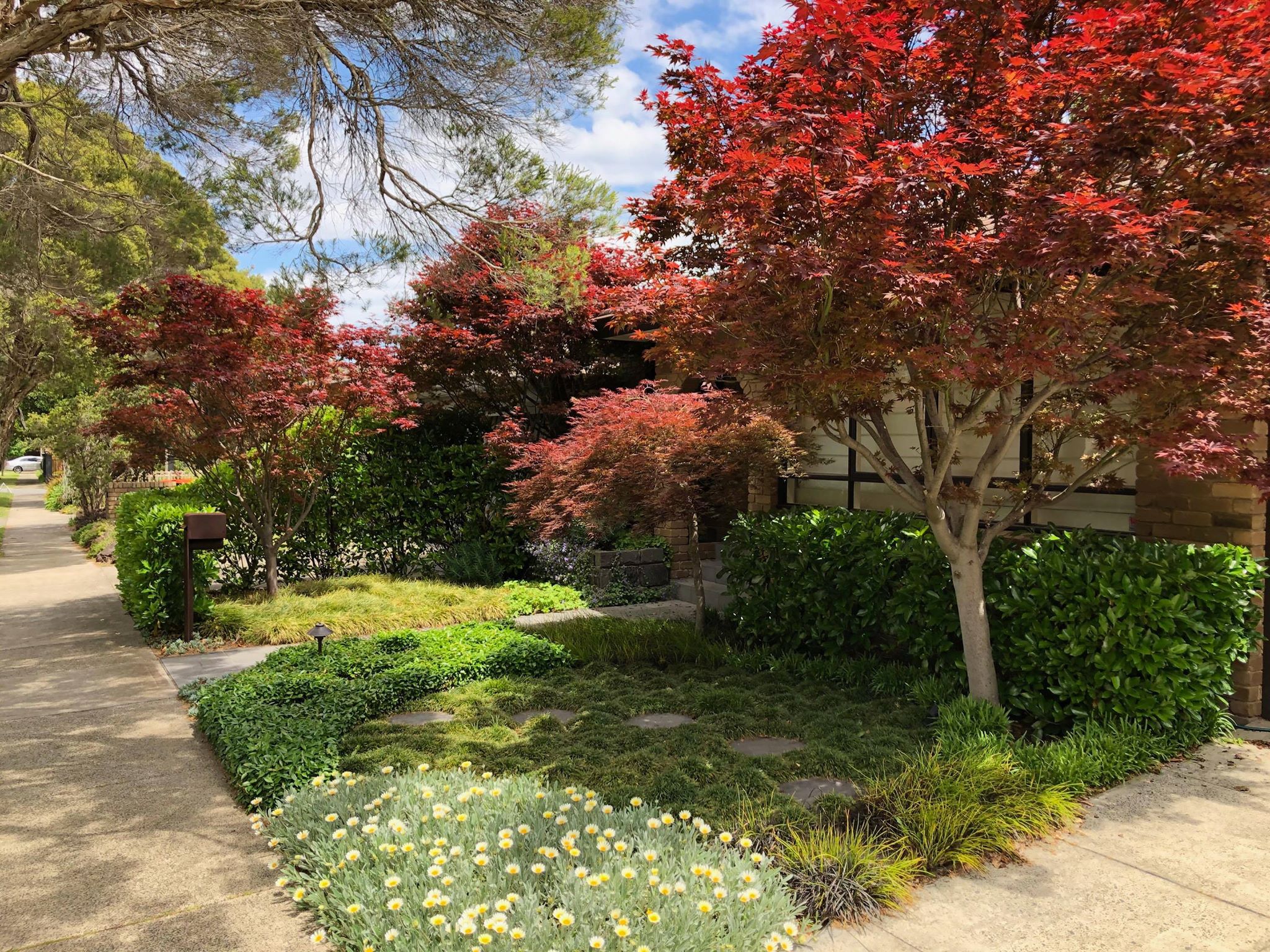 Aware of his clear passion for landscape design, it was vital that Ian not overdesign – keeping it refined and simplistic. Ian firmly advocates doing only what needs to be done and ensuring that it's done well.


Conscious of costs, Ian kept the existing driveway with a slight modification. A big believer that a front entrance needs to be inviting and welcoming yet still serve a purpose, intricate pebbling detail was set into paving to entice visitors to the front door.


Not surprisingly Ian used many of his favourite plants to achieve the lush, green result he was seeking. Japanese weeping maples are the hero of the front garden area – demanding immediate attention with their striking colour and mass (interestingly, one of these was given to Ian when he first started landscape design and has been transplanted 4 times. It moves houses whenever Ian does!).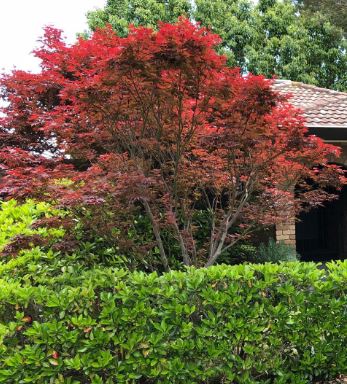 Mini and tall mondo grasses have replaced grass, and Chalk Sticks (Senecio serpens) add great contrast with their colour amongst the green ground cover. The planting area has been designed in such a way that a series of interconnecting circles each have their own plant. It's these connection points that enable the planting design to flow and work in unison. Clever hedging was used to screen neighbouring properties giving their unit privacy and its own section of street frontage.
The brief for the back area very much mirrored the front in that planting and simple design elements were to be the focus. A more traditional, classic vibe was the aim in this area. Ian had a lot of fun designing this part of the garden – so much so that he actually came up with 9 different design options! Being able to play around with different ideas was very liberating for him – the fact that it was his garden at the time, gave him total freedom in his landscape design.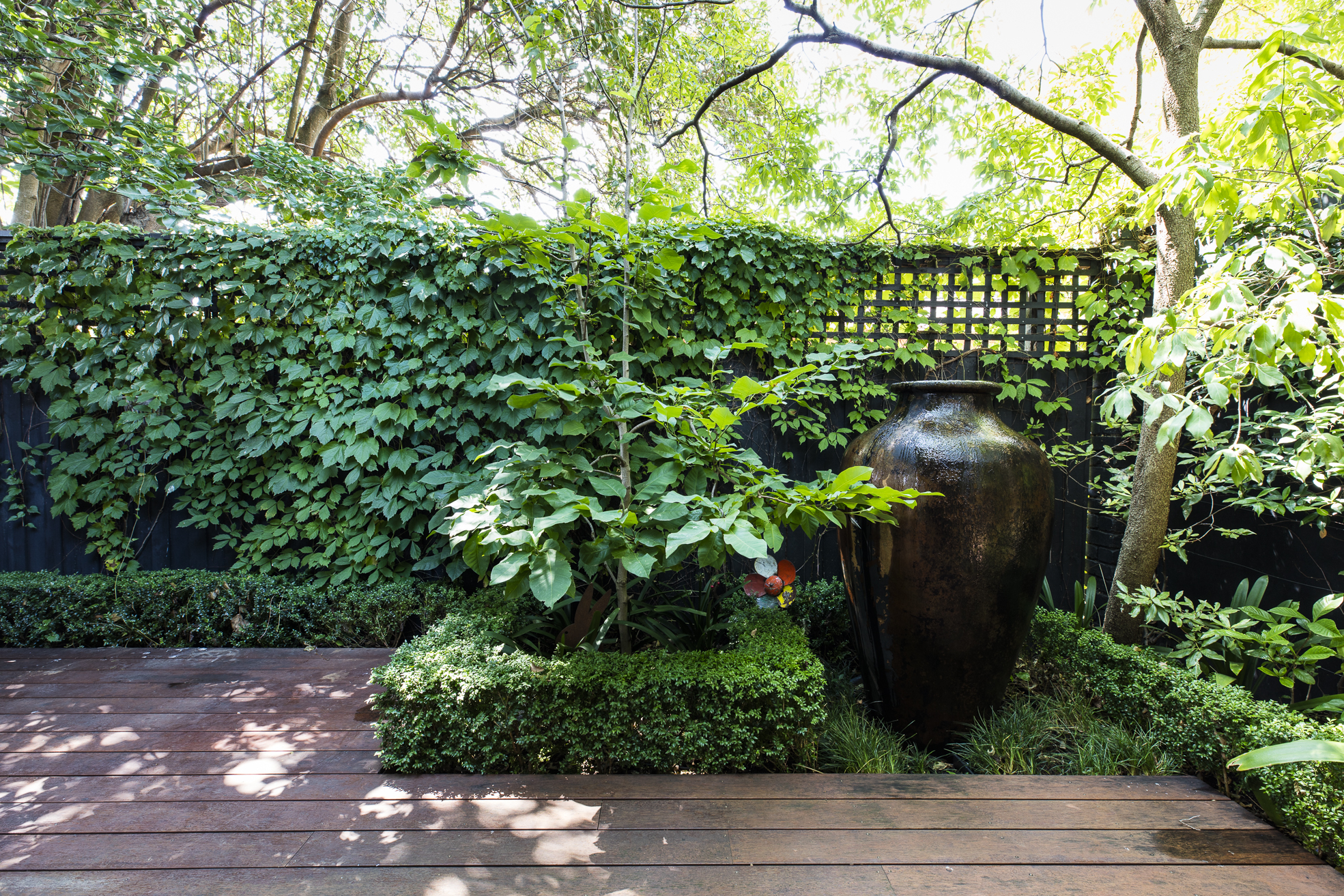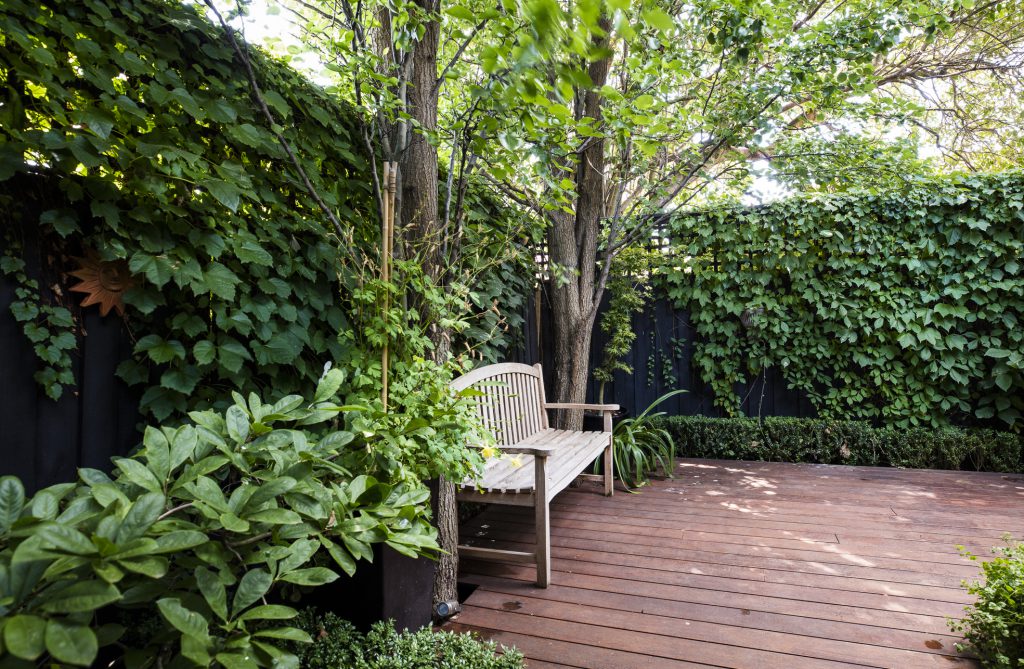 Quite often people jump to the conclusion that to make a small space feel larger, you simply push everything to the boundary – this is certainly not Ian's garden design philosophy. With his back garden Ian chose to give the boundaries varying depths, positioning a bench seat in between trees, using boxed hedging, and planting trees into the decking all of which helped to create a 3D effect, fooling the eye into believing the space is bigger than it is by diffusing the boundary lines. Another common misconception seen time and time again in garden design is the inability for small areas to handle trees. In his back area alone Ian has 14 trees and is thrilled with how cool the garden is even on the hottest of Melbourne days.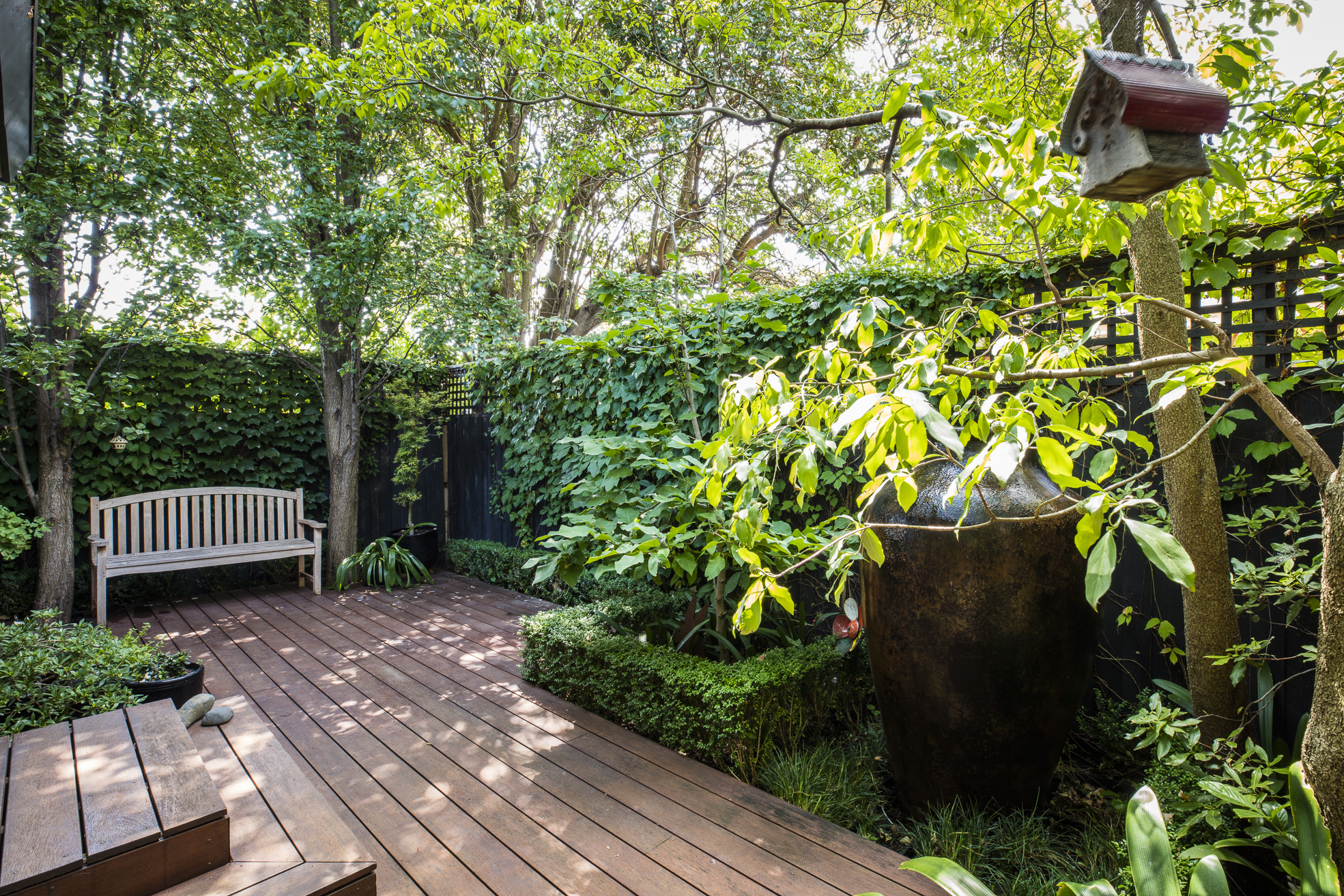 Amongst the trees, Ian cleverly designed a vertical cubby house for his son. This was designed to be an easy piece to remove when no longer used – with some simple branch guidance and manoeuvring allows the area to be back filled quickly and any footprint of a cubby ever existing removed.


Tried and tested planting such as Flowering Dogwood (Cornus florida), Spotty Dotty (Podophyllum) and Yellow magnolias were used in this space. The existing Castlemaine slate path still remains to complement the colour of the decking and give a nod to the original garden designer, Robert Boyle, who Ian greatly respects and admires.
Clearly much thought and love went into designing Ian's garden and we're thrilled to hear that his now tenant is thoroughly enjoying the fruits of his labour of love!

Design by – Ian Barker Gardens
Constructed by – Garden Planners Landscaping
A mix of photography by – Sally Plottel Photography, Claire Takacs and staff photography