Our Surrey Hills garden design project is the epitome of modern design – streamlined and simplistic. Thought to be one of our earliest of this nature and possibly still one of our most authentic.
Back in 2011 we were commissioned by our clients, a lovely family of four, to design all areas of their garden landscape as well as construct the rear and side areas. They were chasing a contemporary garden, in a relatively small space that included a pool for the kids and a comfortable area in which to entertain.
The Victorian heritage home, with a modern rear extension lent itself perfectly to contemporary outdoor living.
To develop the side garden, we used 'Tasman Grey' granite paving, treating it in two different ways to provide contrasting finishes that each compliment the other. The paving was laid in a clean linear format, contemporary in style.
We designed and constructed exposed aggregate concrete bench seats, a modern contrast to the paving material in terms of colour but in keeping with the contemporary linear theme. These seats create a meeting point that will eventually benefit from the shade of the three Maple trees as they establish.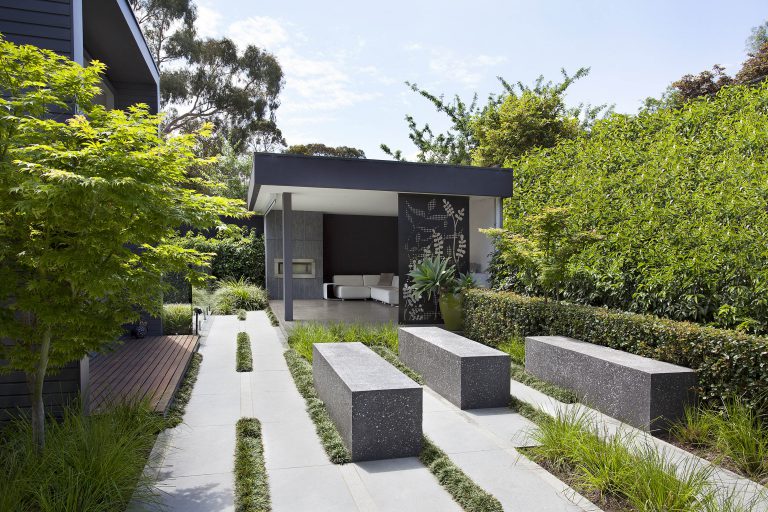 Interspersed between the bench seats, garden beds of fine strappy Lomandra and Mondo Grass provide interest and allow movement throughout the space.
At the rear of the property, we designed and built a modern, low profile, flat roofed pavilion housing a fireplace, BBQ and couch. An intricate laser cut screen was added to provide privacy and anticipation of what's to come. The pavilion stands overlooking the clean lines of the pool, and the paving from the side has been carried through in the same linear format.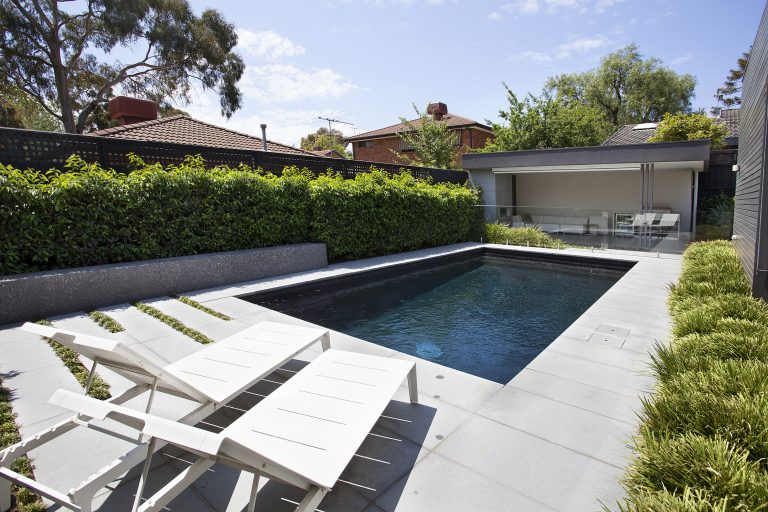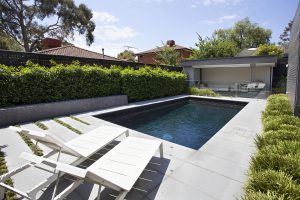 To tie in with the linear exposed aggregate bench seats in the side garden, a buffed concrete feature bench seat was installed in the pool area, surrounded by planting for greenery and screening. Mondo Grass planted within the pool paving creates interest and helps to soften the hardscape elements.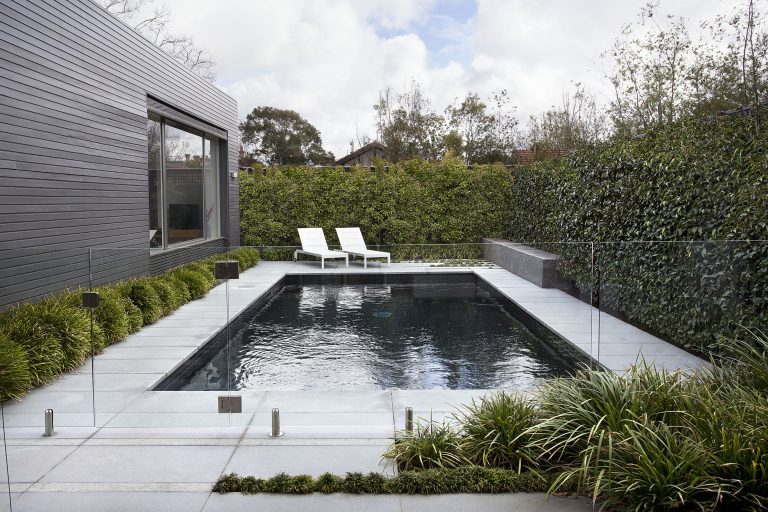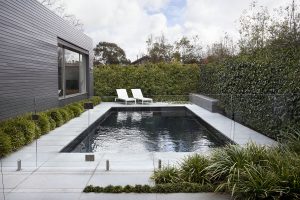 As is the case with most of our garden designs, the planting palette was restrained and used in varied repetition. In this instance, we chose low maintenance, foliage focused species in varying shades of green to fill the linear garden beds. We chose lime green long strappy Lomandra to contrast with short strappy Mondo Grass that is dark green and hugs the ground. The clipped hedges of Prunus lusitanica offer a rich dark green backdrop, while the Lilly Pillys contribute flickers of red with new growth. With the minimal garden area available to us, we created the illusion of elongating the space in the way we laid the paving and positioned the garden beds. Through our restrained planting and green-on-green colour scheme the design plays with varying proportions and depths.
We loved every minute of creating this contemporary landscape design and look forward to sharing its progress as the garden matures.