To sum up our Sandringham garden design project in 2 words – 'pure joy'! We loved every minute of bringing this garden design to life.
Our wonderful clients had very definite ideas of what they wanted to achieve from their garden, separating into distinct areas for welcoming guests, entertaining, relaxation and plenty of open space for the kids.
A statement front entrance was always essential in making our Melbourne garden design work. Set on 1570 square meters, we chose to reuse the existing slate in a more contemporary manner. Laid originally by the previous owner, (a famous Australian painter!), it creates an obvious, eye catching pathway to the property.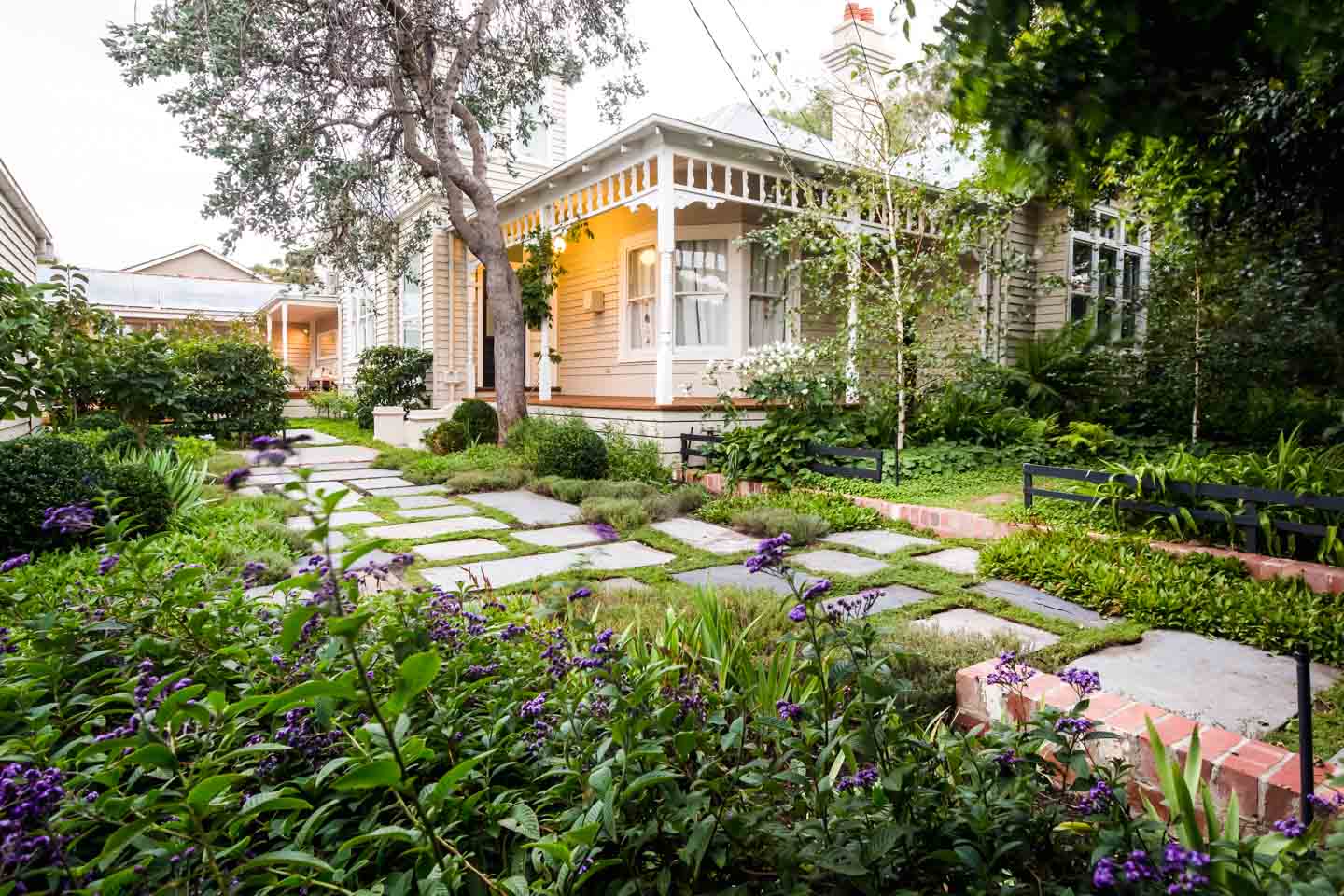 Just off the main entrance is the Woodland Garden, a shaded area with a forest-like feel – the perfect place for the kids to explore and have endless adventures. The winding path leads past the Meadow Garden through to the Forest Garden.
Our plant focused clients allowed us the opportunity to play around with lots of different plant varieties and textures. We kept the existing ferns, re-positioning successfully throughout the woodland – to add balance and interest to our landscape design.


Continuing on the theme of exploration for the kids, we used old Bluestone pitchers, originally from the property, to build rock steps and winding paths through the Forest Garden. We chose plants that will soon grow to cover the timber fort platform and create a jungle feel – allowing the kids' imaginations to run wild.


We gave the existing Jacaranda and Banskia trees a new lease on life by removing surrounding trees and shrubs that were stealing the limelight. The sculptural design of the Banskia tree trunk is now a real focal point.
The expansive rear lawn sits perfectly next to the pool area accentuating the feeling of space and calm, with an array of perennials and grasses softening the straight lines. Mixed perennials and grasses were also introduced to soften the hard architectural lines of the deck and the pool. This area allows the family the freedom to use the space in any way they see fit as their needs and lifestyle stages evolve.


The Kitchen Garden area is simplistic and charming. We designed and constructed curved garden beds to add interest and along with the decking and steppers they instantly make the space flow. The planting in this area was themed around 'cut flowers' – allowing our client the luxury of having a florist at their fingertips.
We're hoping to have an open to the public viewing of this garden in the future. Photographs are wonderful but seeing this beauty in the flesh is even better.

Garden Design by – Ian Barker Gardens
Constructed by – Ian Barker Landscapes
Photography by – Erik Holt Photography