We are now only 6 days away from the start of the MIFGS build and 15 days away from opening day! With the show drawing ever closer, we would like to introduce you to another one of our wonderful partners, Kif & Katast.
Kif & Katast are a Melbourne based contemporary design practice. Originally formed as a design /branding studio, they now design and produce a varied range of products with increased focus on architectural and larger scale pieces.
Kif & Katast have kindly donated some of their Gingko stools for us to use in our 2015 garden 'Cross Roads'. Made from stainless steel with a lightly textured powder coated finish, these stools are surprisingly sturdy and comfortable. We think they will go perfectly in our garden and can't wait to see how they look in a couple of weeks time when we are putting the finishing touches on 'Cross Roads' ready for the judging.
Thanks Kif & Katast!!!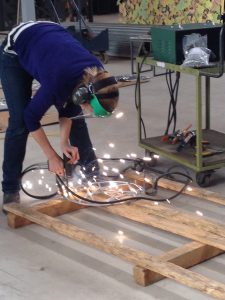 We'd love to hear your thoughts and are happy to answer any questions, so don't forget to comment on our blog posts if you'd like to join in on the MIFGS discussion!
The Melbourne International Flower & Garden Show runs from Wednesday 25th – Sunday 29th March at the Royal Exhibition Building and Carlton Gardens, from 9am – 5pm each day. See you at the show!