Yesterday was a brilliant first day for the construction of our garden 'Cross Roads' presented by Australian House & Garden at MIFGS. We were very pleased to be running ahead of schedule and we even managed to have our doorway (made by Handyman Steel) craned in to place. The doorway will take visitors from the meadow through to our 'world of plants'.
As you may have read in a previous post, the doorway has been designed to appear differently depending on which side you are viewing it from. From the meadow side of the garden the doorway appears thin and light, to reflect the airy and open nature of the meadow planting. Once visitors step through the doorway, the height angles downwards and the space becomes darker and more enclosed to emphasize the transition to the shaded woodland garden filled with lush planting. From this side, the doorway appears angled and much chunkier.
The doorway will be finished with a dark metallic charcoal grey paint, and will be a beautiful focal point in the garden, injecting an interesting sculptural element.
Scroll down to see photos of the doorway being craned in yesterday…..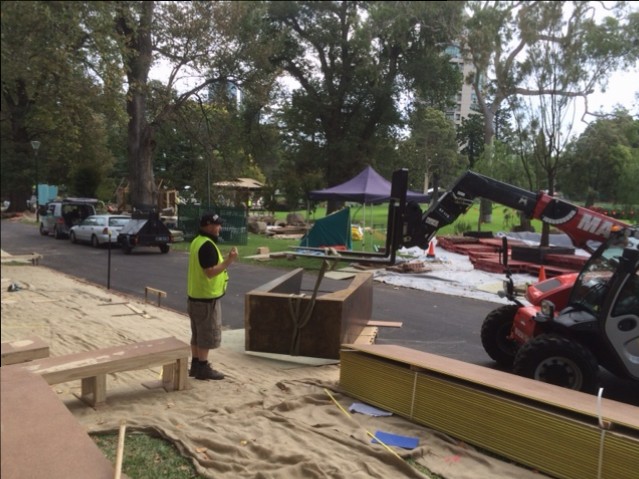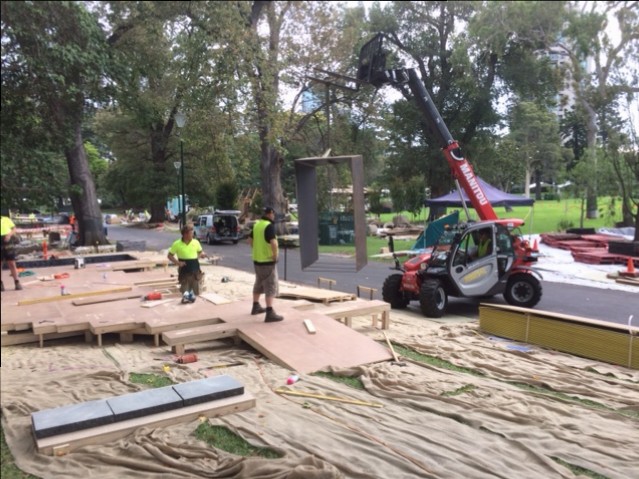 We'd love to hear your thoughts and are happy to answer any questions, so don't forget to comment on our blog posts if you'd like to join in on the MIFGS discussion!
The Melbourne International Flower & Garden Show runs from Wednesday 25th – Sunday 29th March at the Royal Exhibition Building and Carlton Gardens, from 9am – 5pm each day. See you at the show!