Jim Olson has been on our design radar for quite some time now. Not only are we drawn to the simplicity of his architectural and landscape designs, we share in his philosophy that "architecture should fit into its context in a way that makes a better whole". As the founding principal of Seattle-based firm Olson Kundig Architects, Jim's considered designs are born through the exploration of interplay of art, nature and architecture, and the relationship between light and space.
Recipient of many industry awards, over his 50 plus years, his work is awe-inspiring.
Ian is particularly fond of Jim's serene nature inspired creation nestled amidst the towering fir trees of an ancient forest. Respectful of the restraint shown throughout this project, he believes that Jim has shown great courage in creating such an understated design that allows the landscape to shine through.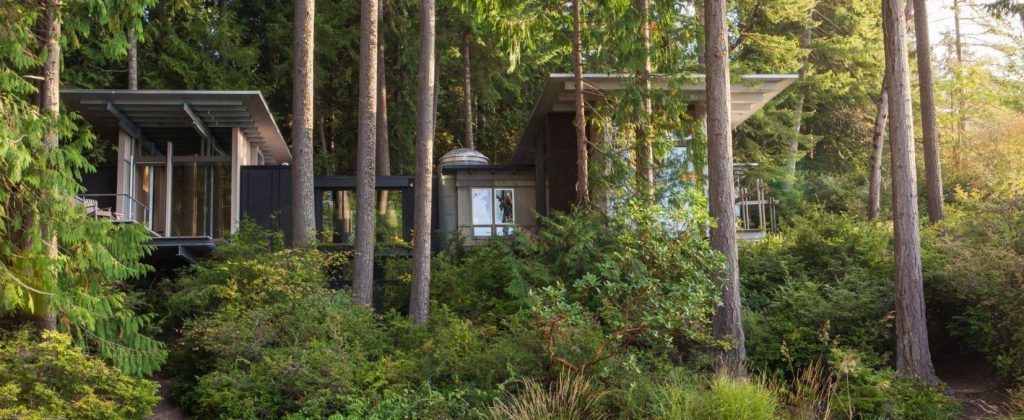 Jim reverence for nature and admiration of the site's beauty is expressed in the design of this cabin located in Longbranch, Washington. What began as a 200-square-foot bunkhouse built in 1959 has morphed through subsequent remodels (in 1981, 1997, 2003 and 2014) into a modest weekend house. Each successive addition and remodel has reused and integrated the previous structure rather than erasing it, revealing the history of the architecture and the process of its evolution.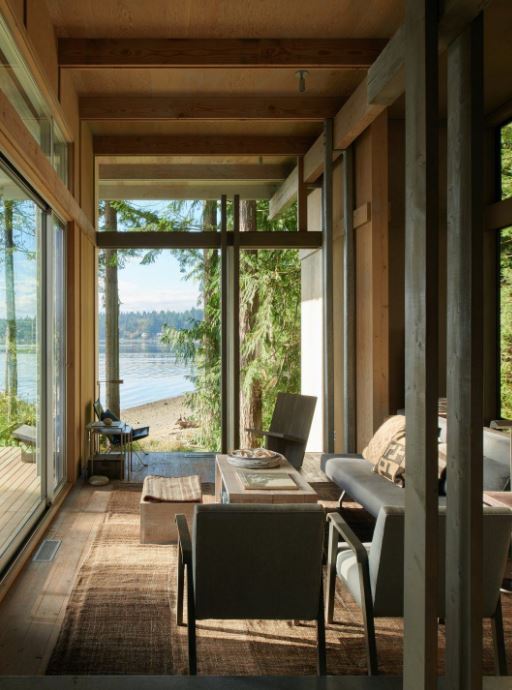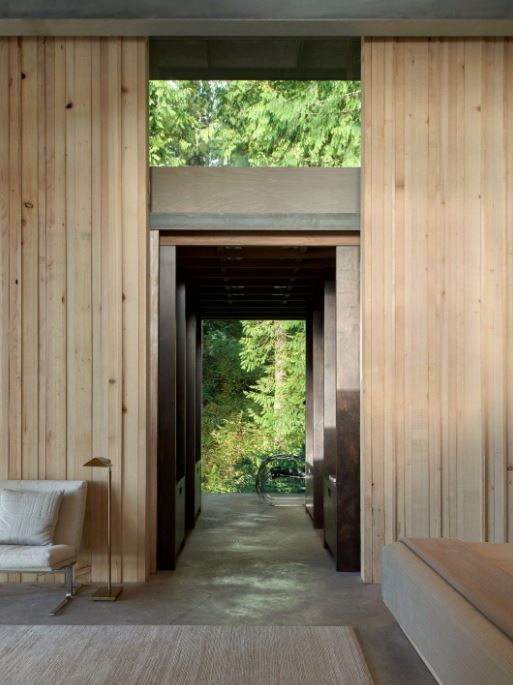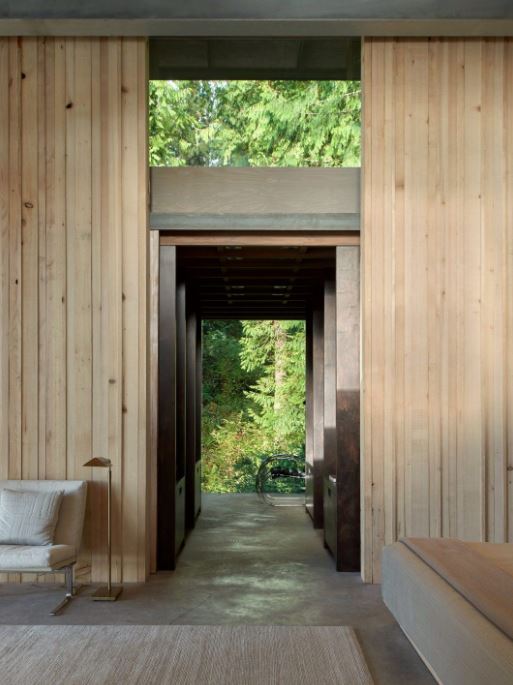 In the 1980s, the retreat consisted of three tiny pavilions linked by wooden platforms. In 2003, the pavilions were connected by a unifying roof, creating a single form grounded onto the hillside and projecting out over the landscape. The living room's large wall of glass frames a view of the adjoining grassy field and Puget Sound, visually blending the indoors and outdoors. In 2014, a master bedroom and two guest rooms were added, creating a retreat of 2,400 square feet.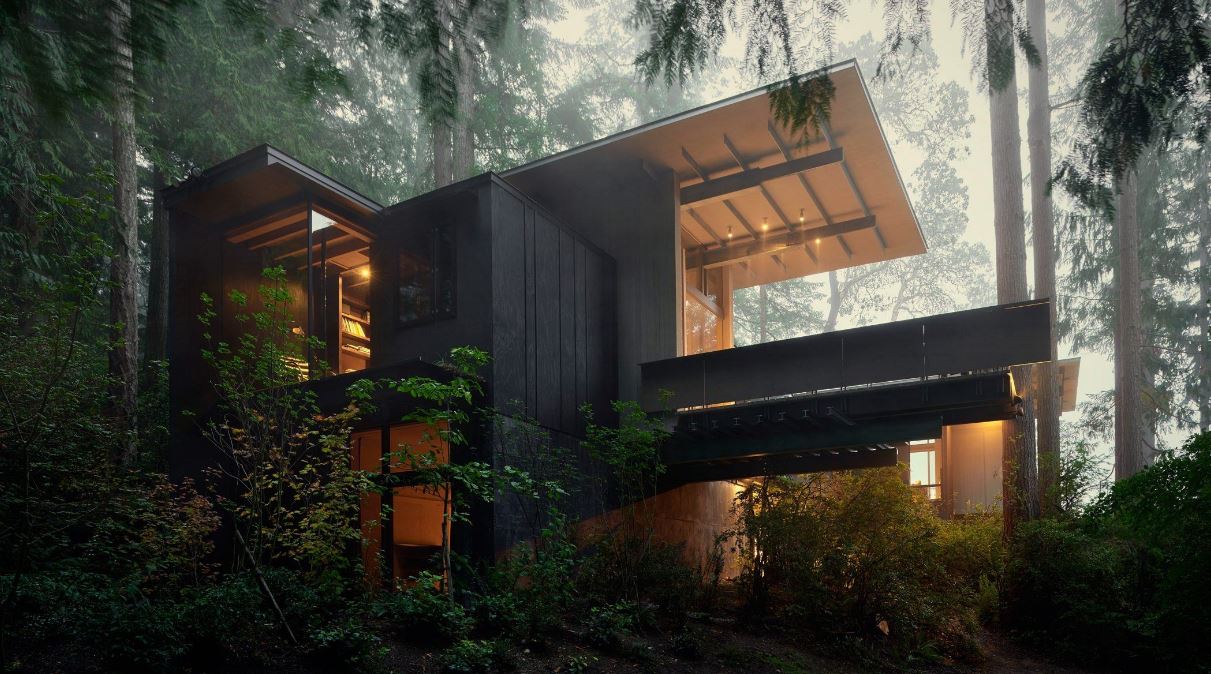 The cabin is intentionally subdued in colour and texture, allowing the lush natural surroundings to take precedence. Simple, readily available materials were used: wood-framed walls were sheathed in plywood or recycled boards, inside and outside; doubled pairs of steel columns support beams that in turn support exposed roof structures. Interior spaces appear to flow seamlessly to the outside as materials continue from inside to out through invisible sheets of glass. And our favourite part, three mature fir trees have been accommodated within the design and allowed to grow through openings in the deck, one of them exiting through an opening in the roof.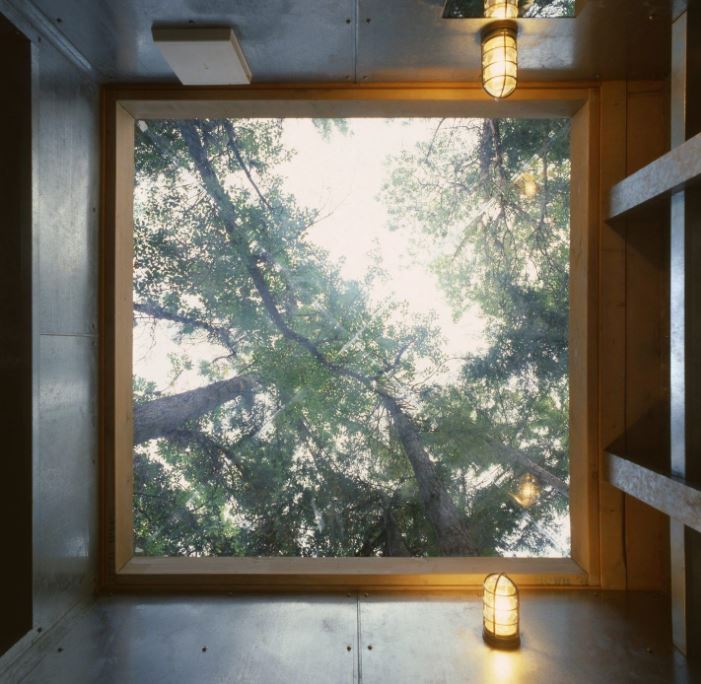 Needless to say, this design is truly captivating and certainly deserving of our attention.
For more on Jim and his spectacular nature and art inspired designs, click here