Ian was recently asked to give a presentation at the Anston Paving Industry Night in Adelaide about gardens that have influenced him over the past five years, and the direction he sees his company heading in the future. Below, Ian discusses the work of five designers who have had a major influence on the type of work that Ian Barker Gardens are passionate about creating – beautiful gardens with contemporary hardscapes and a soft naturalistic approach to planting. Keep reading to find out more….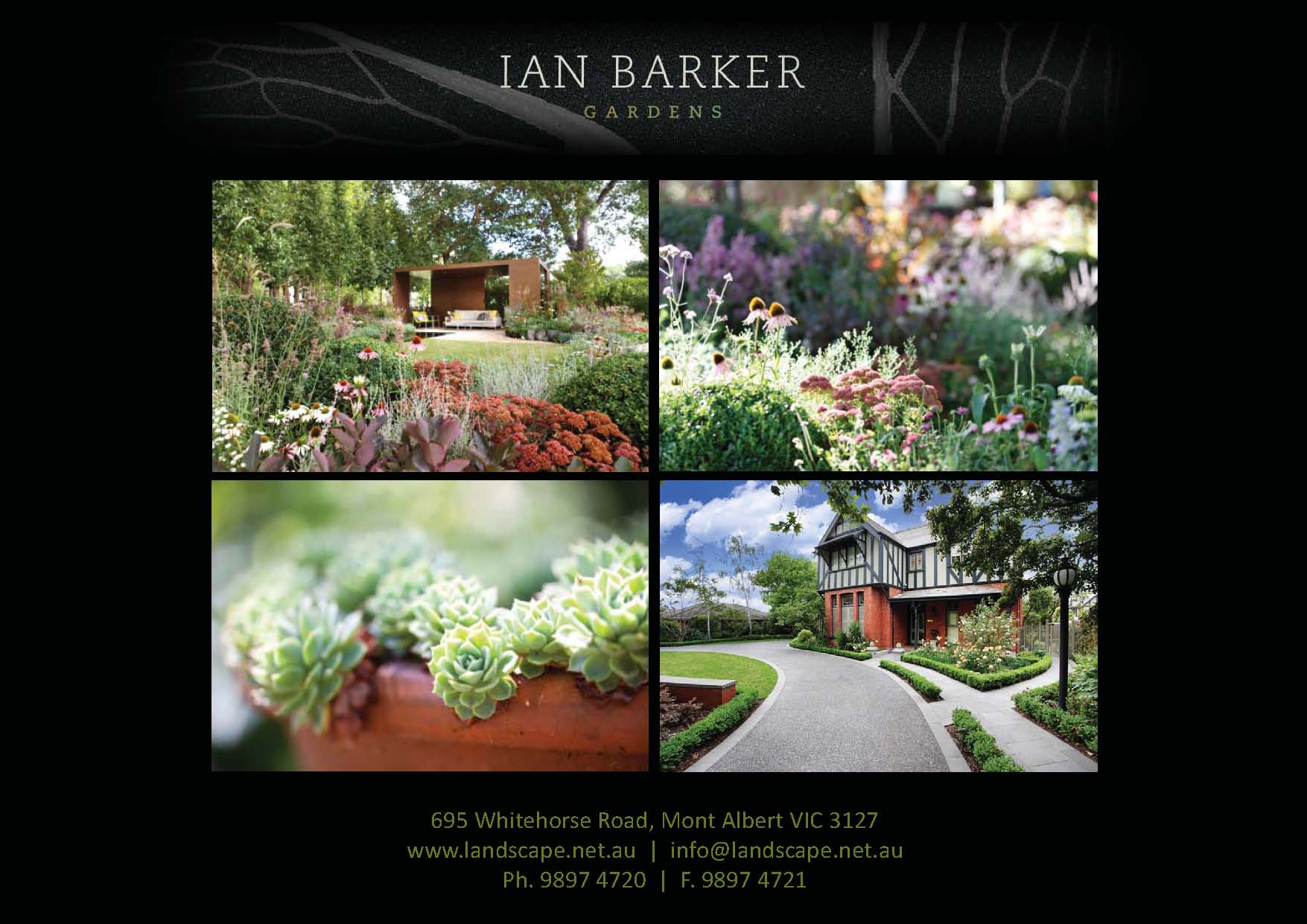 Before we can discuss which designers have been the most inspirational to me in the last 5 years, I'd like to you back to 2008, where I was lucky enough to be at the Chelsea Flower Show in London because our company were in charge of building Jamie Durie's Australian garden.
This was my first time at Chelsea and I thought it was absolutely extraordinary. The level of detail in the gardens on show was off the charts. I saw some amazing gardens at Chelsea, but it was this one designed by Tom Stuart-Smith that really blew me away.
As construction finished up each night, I was drawn to this garden and went back numerous times to watch it's progress. As the garden came together, it started to become apparent that this garden was all about showcasing plants.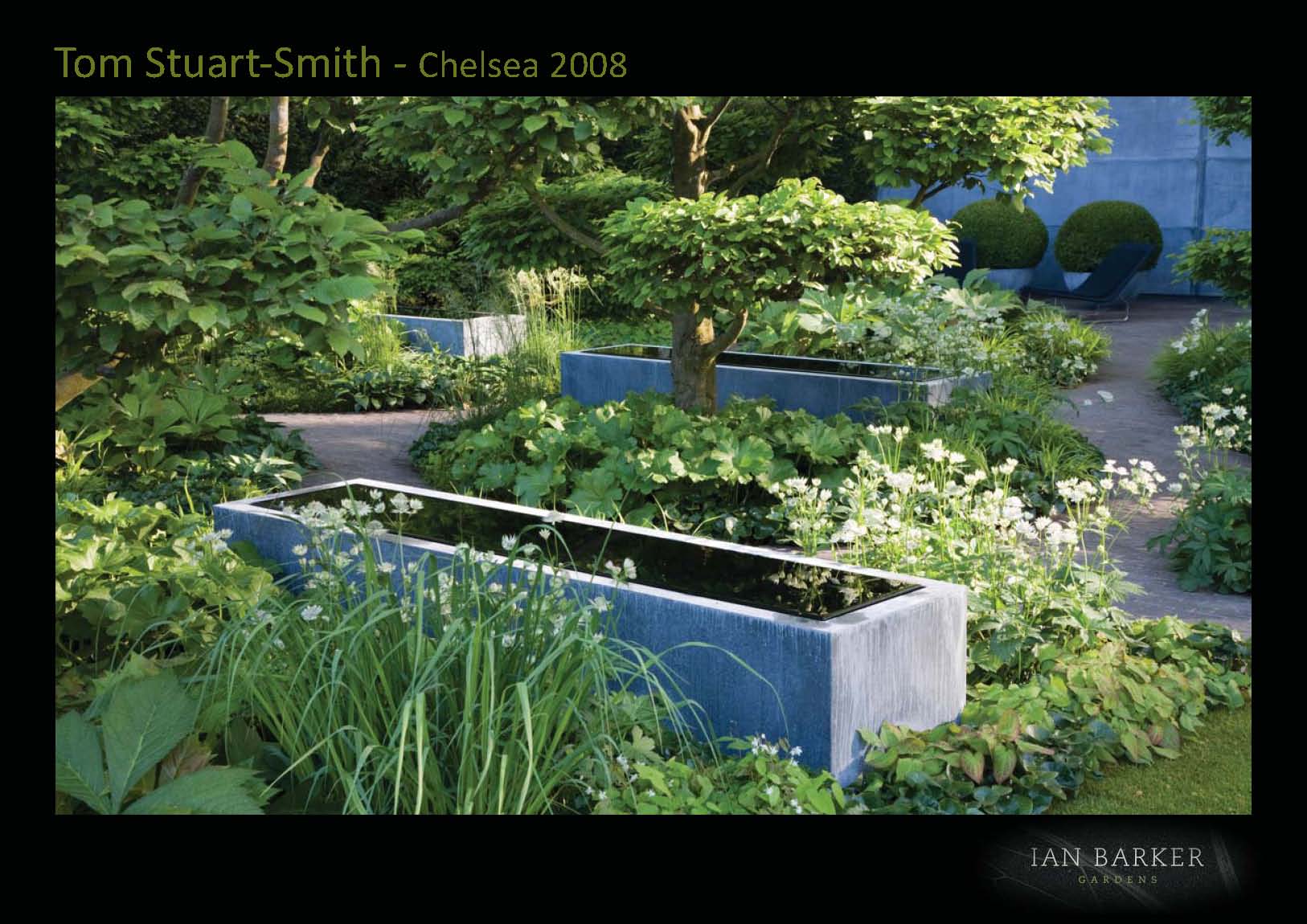 When you compare Tom's garden to Jamie's (below), the difference is obvious. Jamie's garden was typical of what we were drawing and building at the time, where the hardscape was the dominant feature and the plants were used more as window dressing.
In Australia we seemed to be focused on how we use the garden instead of concentrating on how we see the garden. I think that if we create a garden that looks beautiful first, we will then be drawn to use it.
Looking at the image of Jamie's garden, you can see clearly the ratio of hardscape to planting. There is no doubt that the hard scape makes up a much greater percentage. I will always be proud of this garden an what we achieved that year at Chelsea, but I have to say that the Tom Stuart-Smith garden really captured my imagination and highlighted the massive difference between gardens that we were producing in Australia and those that were being produced overseas, particularly in Europe.


If you flick between the two gardens the contrast between the two styles is clear. Looking at Tom's garden below, you can see the detail in the planting design, such as the subtle use of white in the underplanting. Just the right amount of white perennial plants have been used to create a 'sprinkled' effect. I'd also like to point out the Cloud Trees which had been pruned for 18 years to achieve the look you can see in the image. Its detail like this that epitomizes Chelsea as one the best garden shows in the world.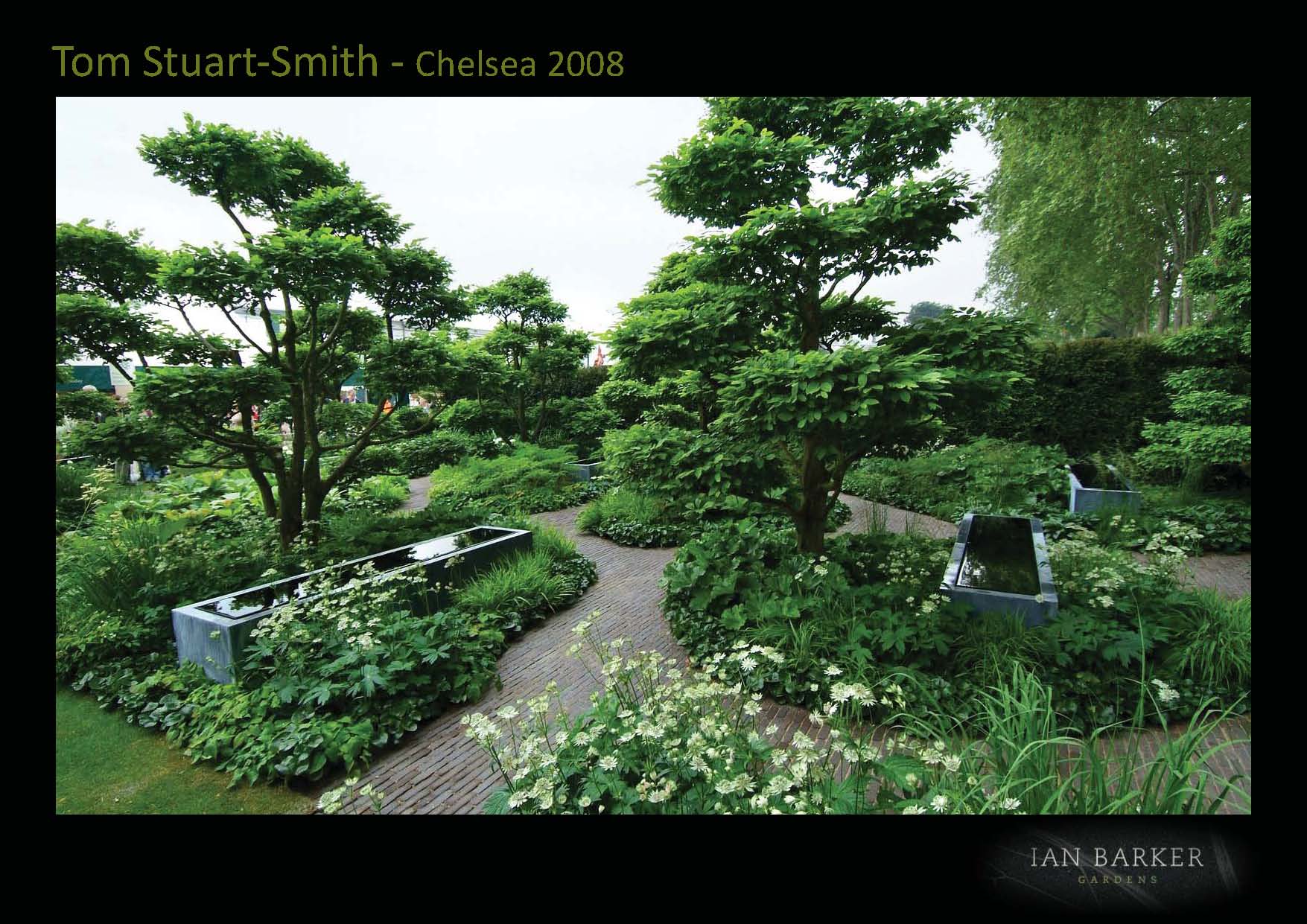 The purpose of this presentation is to highlight what I think are potential trends of the future. After Chelsea 2008 I went looking for more plant focused designers. What I found was a consistent theme across Europe and North America of contemporary hardscapes with a soft naturalistic approach to the plants.


Oehme van Sweden are an American company started 40 years ago by the late James van Sweden and the late Wolfgang Oehme. Oehme and van Sweden are widely credited as the creators of the New American Garden style. This style places emphasis on letting plants grow free, rather than forcing them into artificial forms. Built elements are designed to complement the softscape, both sharing equal importance, rather than one dominating over the other.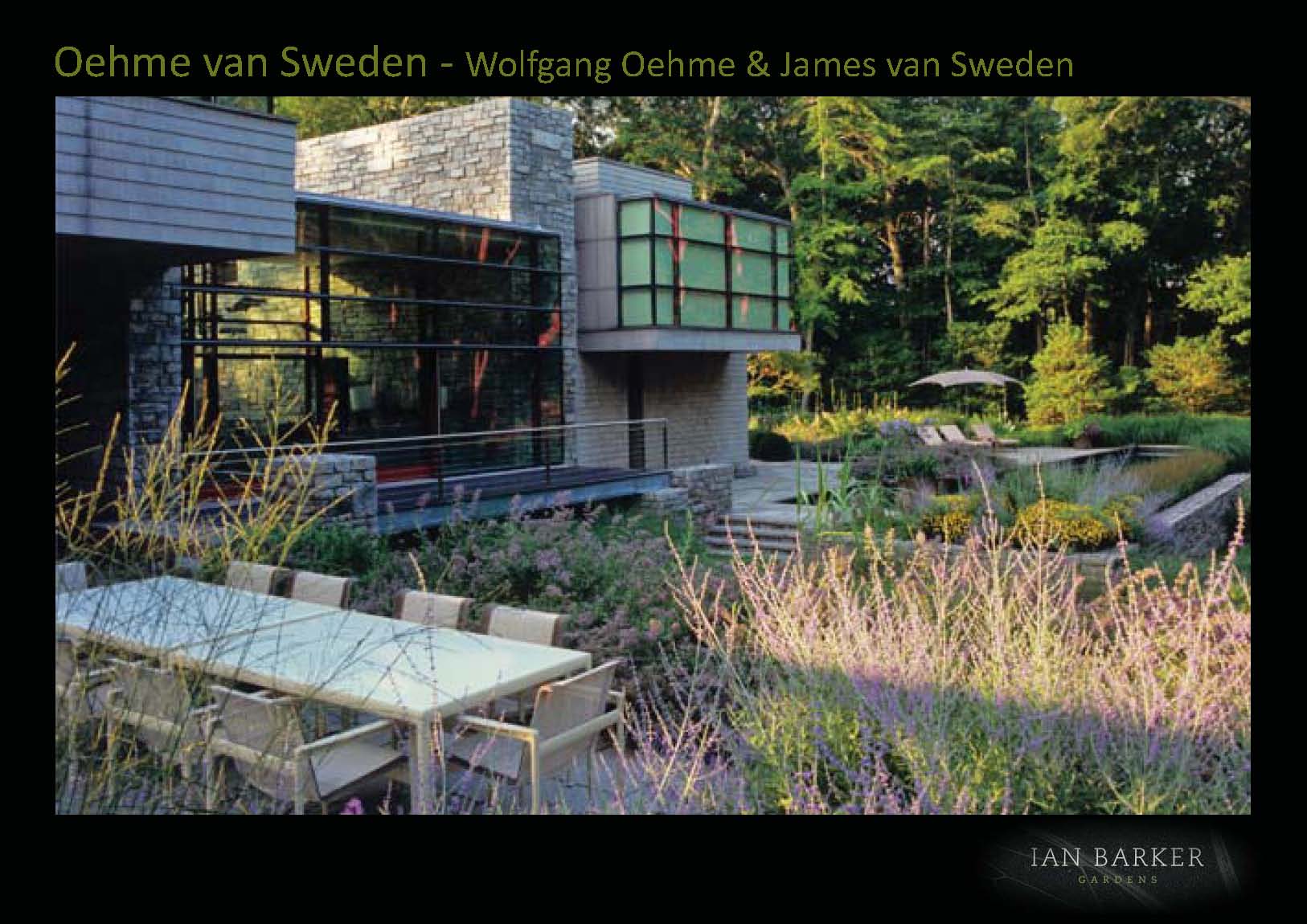 The firm is renowned for pioneering a green approach to landscape architecture, that promotes the use of a naturalistic style and highlights drought tolerant perennials. Their focus has been on developing an understanding of native soils and using plants that will thrive in existing conditions.


Tom Stuart-Smith (who I mentioned earlier) is a landscape designer from the UK, whose practice was established in 1998. Stuart-Smith's work ranges from large gardens and parks to smaller residential gardens. He has designed a number of gardens for the Chelsea Flower Show, eight of which have been awarded gold medals and three awarded 'Best in Show'. Tom Stuart-Smith aims to make gardens that combine naturalism and modernity.


I was lucky enough to be back at Chelsea in 2010, helping to build Scott Wynd's Australian garden. For a second time, I had the pleasure of seeing another one of Tom's amazing gardens in person. You can see below, as with his 2008 garden, the restraint shown in the colour palette. He has used a 'planting by numbers' approach to create the naturalistic look here. Also note, the contemporary bronze pavilion, which complements the planting but does not over power it in any way.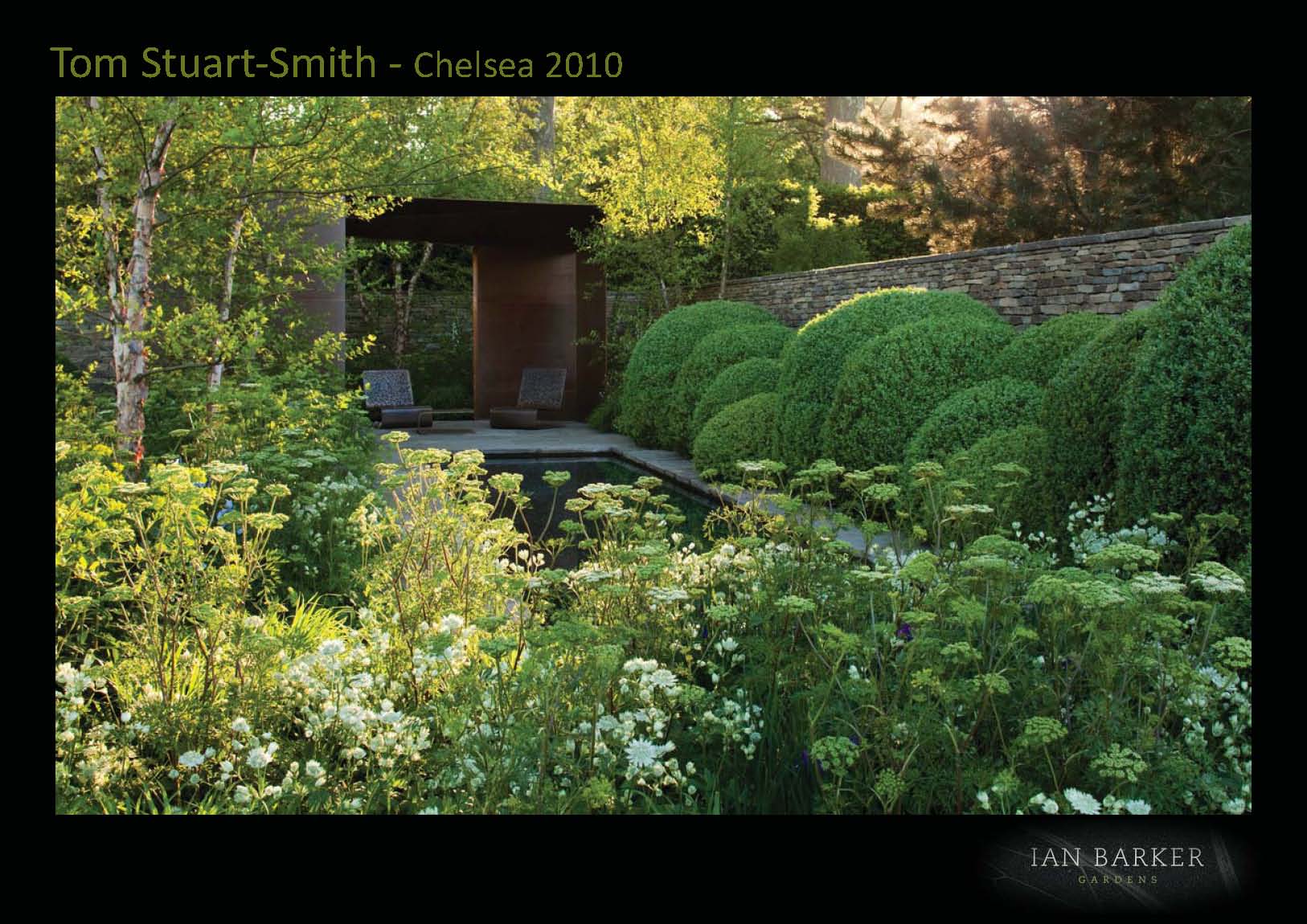 The slide below is an image of Tom's own garden, and I have to say this is my favourite colour palette. He has used a scatter and intermingled approach to create the mass of naturalistic planting. The hardscape integrates with the planting and perfectly illustrates Tom's ability to blend contemporary style with naturalism.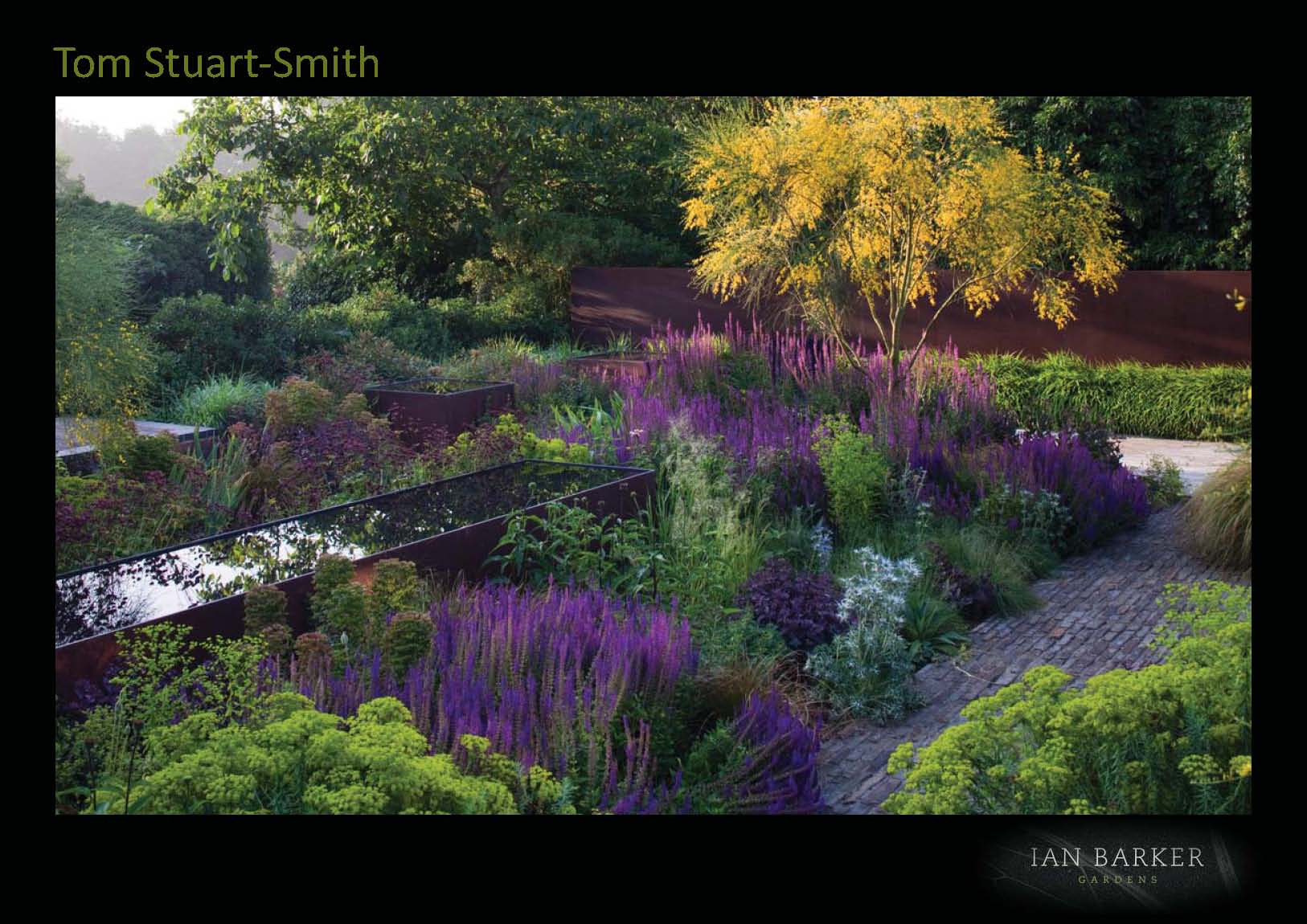 Andrea Cochran is American landscape designer based in San Francisco. I have put her in my top 5 for this presentation because I believe her work would easily translate to the Adelaide region due to the similarities in climate between Adelaide and California. Don't you agree that this particular garden (below) would look just as much at home in the Barossa as it does in California?


Cochran's work seeks to navigate space through a seamless integration of landscape, art and architecture. She explains her work as drawing boundaries with a controlled palette of materials, creating permeable edges that blur the line between the natural and built environment.


Piet Oudolf, from the Netherlands is often described as the father of the New Perennial Movement and to say that he is my all time idol would be an understatement. Now in his 70's, it is my hope that we have at least another 20 years to learn more from him.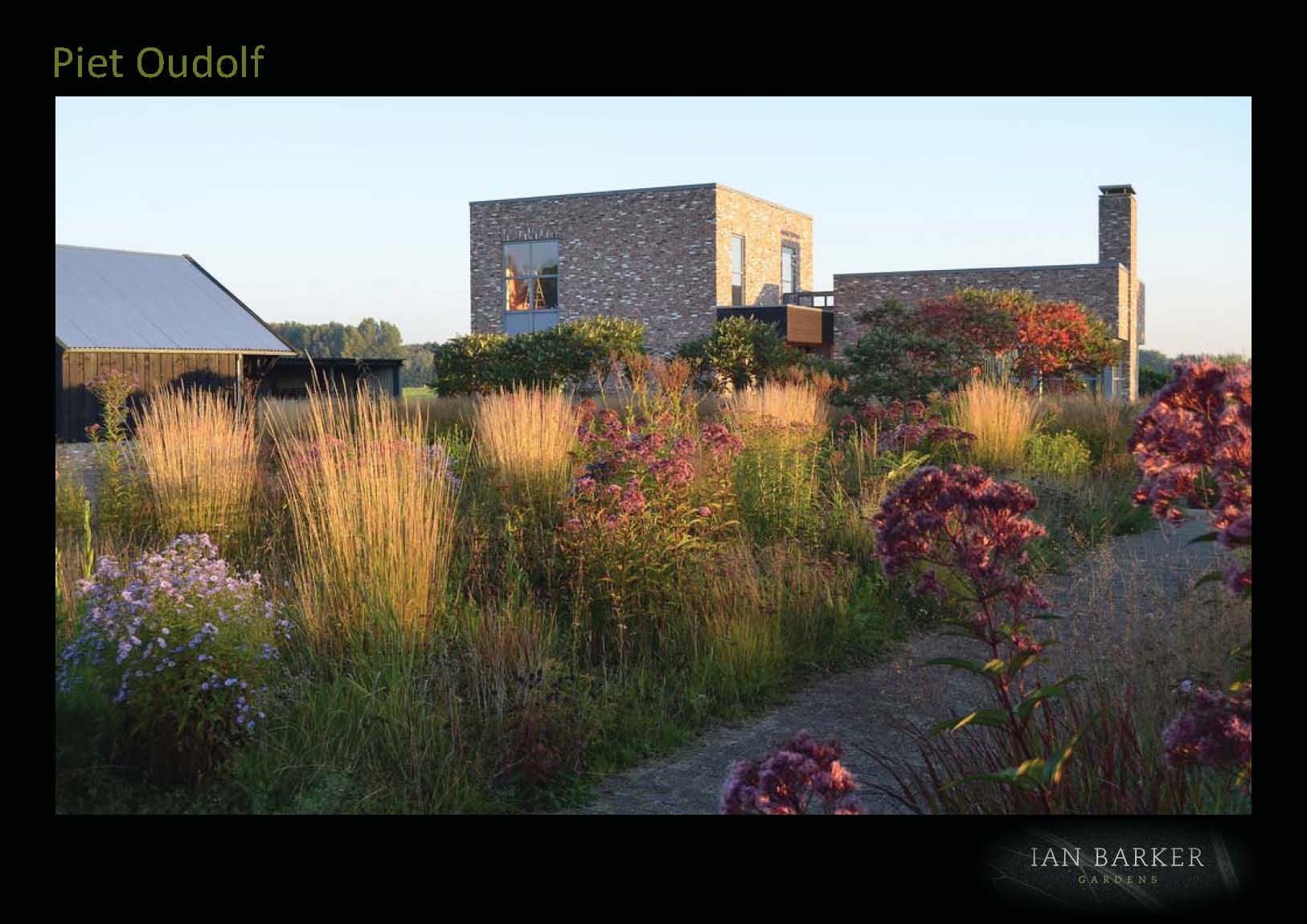 Oudolf is a plantsman in the truest form. He is not a landscape architect, as such, but is well known for creating beautiful planting designs in public spaces using a naturalistic style of planting, such as the garden in the image below, Bad Driburg in Germany. His planting designs often incorporate large swathes of colourful perennials planted in repetition, which create an overall effect that when viewed from afar looks almost painterly.


In the images below I want to showcase Piet's planting style and his tendency to select plants that change throughout the seasons. His style celebrates the complete lifecycle of plants, with selection based on whether they are as interesting in Spring as they are in Winter and if they are as beautiful dead as they are alive. Oudolf believes that the real test of a garden isn't "how nicely it blooms but how beautifully it decomposes". He likes to display the beauty of seed heads and the bare bones of a plant just as much as the flower.
We don't get the same kind of Winters as they do in Europe, so we wouldn't necessary be able to achieve same effect as the top right image shows. However, I still believe that plants in Australia have an interesting life cycle and can be chosen with the same theory in mind.


The last of my top 5 designers is Bernard Trainor, who was born and bred on the Mornington Peninsula in Victoria but has been living and working in California for the past 20 years. As with Cochran, he works in a similar climate to the Adelaide region. Trainor regards the design of outdoor space as both a technical and artistic expression that carefully balances the character of materials, architecture and people within the historical, cultural, and environmental context.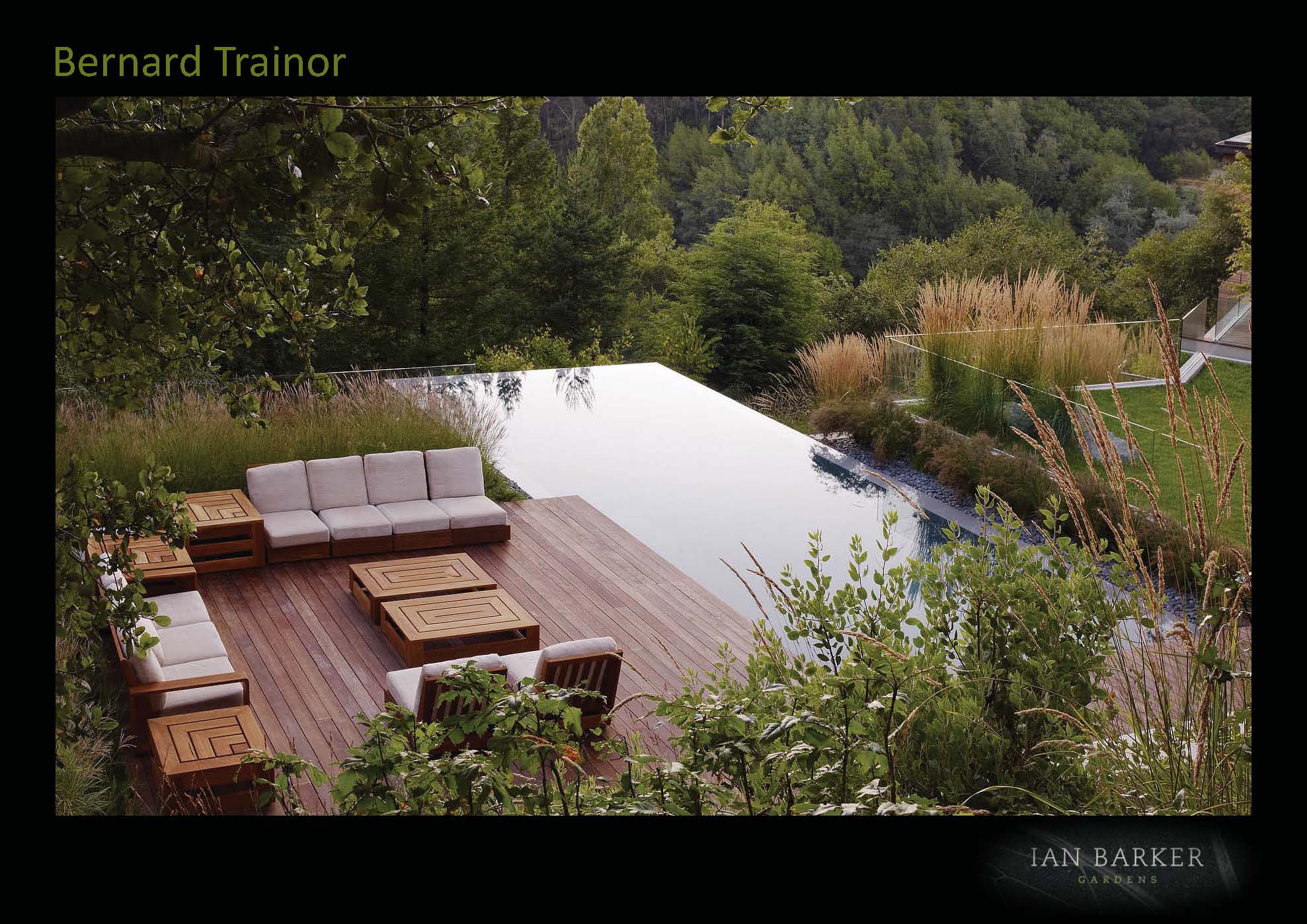 You'll notice that his planting incorporates a lot of grasses, and less perennials. Grasses are more likely to survive in this climate, where as perennials do better in places like Europe and Melbourne.


I believe his work is extraordinary.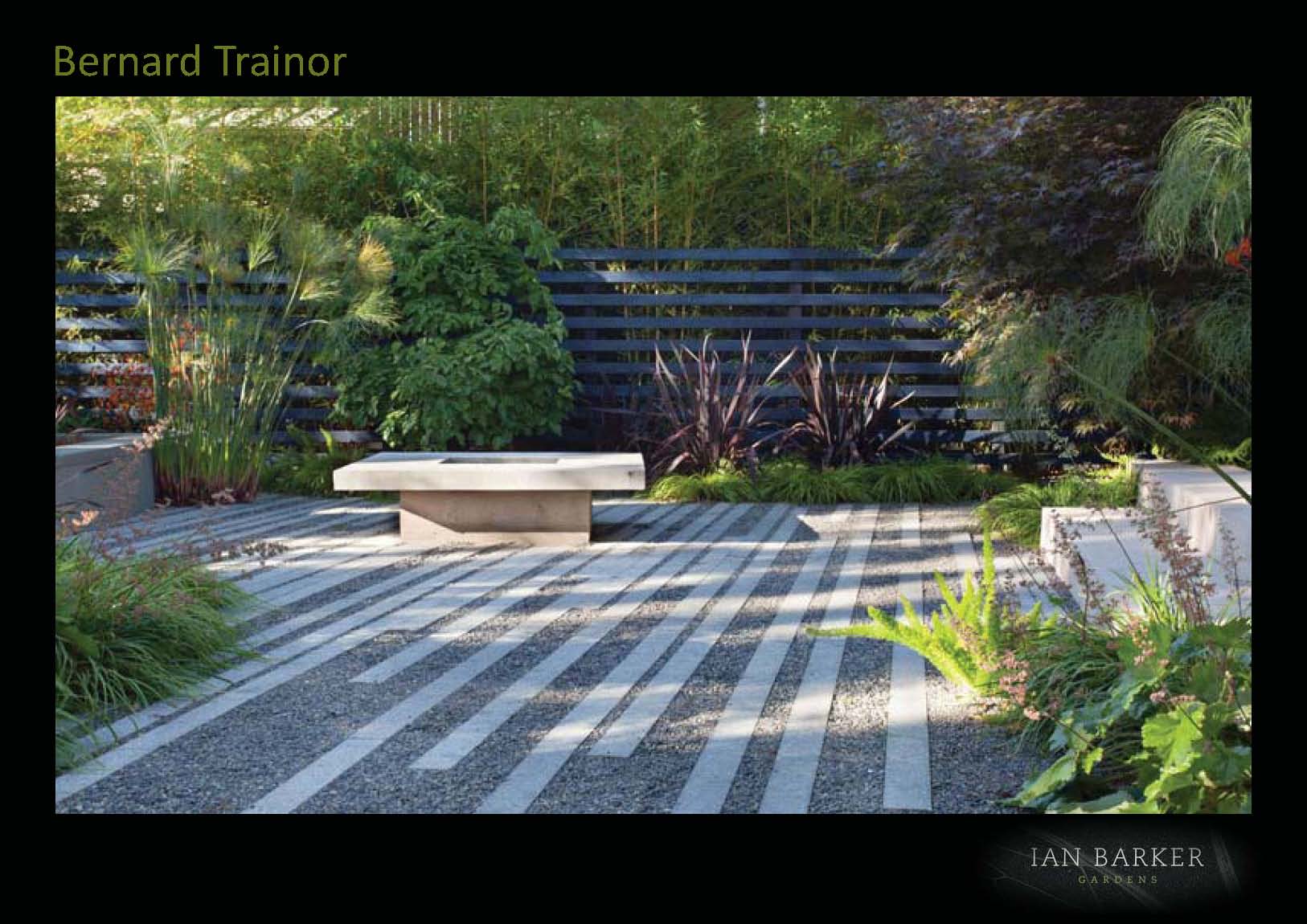 As a company, we aim to explore the combination of contemporary landscape architecture with a soft planting palette in the hope that one doesn't dominate the other. Our first attempt at this was at the Melbourne International Flower & Garden Show in 2013. As you can see, the hardscape featured a simple grass lawn, an area paved in Anston paving, a black reflection pond and a bronze pavilion, all designed not to overtake the planting.


The planting included a drought tolerant mixed perennial border, which was designed using a scatter and intermingled planting system. Scatter planting uses 1 or 2, possibly 3 plants that are scattered throughout the entire garden and provide uniformity. The intermingled plants are then spread out through the garden to create an overall effect, which from a distance and when standing within the garden allows you to see the waves of colour repetition that flow throughout the garden and direct your eye through the space. The buxus spheres are used as anchors.


After testing our theories in Melbourne residential gardens, we thought it was time to explore naturalistic planting in a commercial setting. The concept behind our garden at the Melbourne International Flower & Garden Show in 2014 was to convert a disused industrial space into a place where people can meet to socialize and connect with nature.


The idea was to use found objects in the new space , such as a shipping container which was converted into a pop up café, and left over machinery parts that were used as garden sculptures. A naturalistic planting palette in rusted, autumnal colours, was introduced to create a feeling of warmth and a sense of community.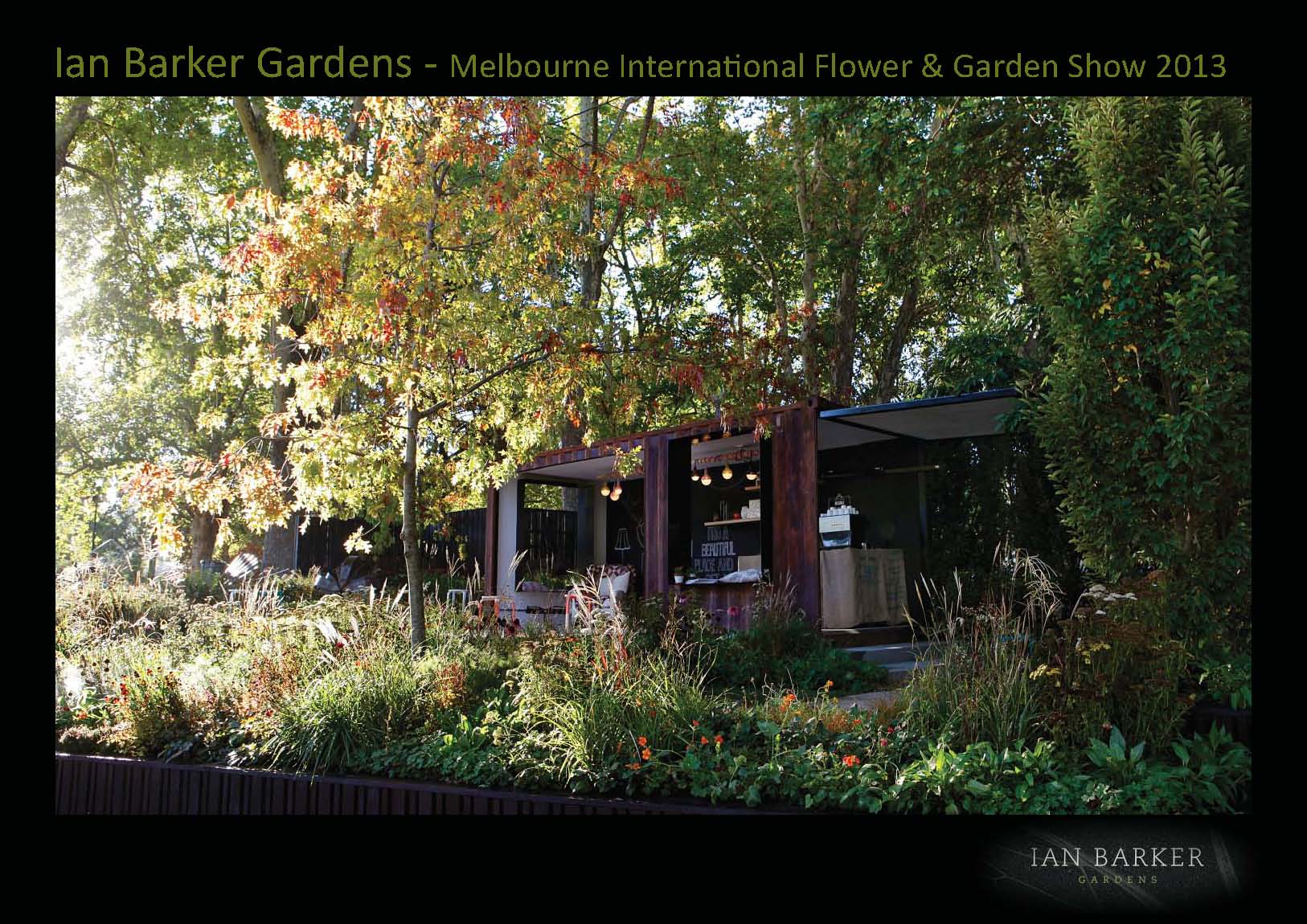 To finish off, I'd like to share with you what I believe is the best landscape project in the last 20 years. The High Line in New York City is an aerial park, built on an abandoned railway line. It was designed by James Corner Field Operations, Diller Scofidio + Renfro and Piet Oudolf.
The High Line combines everything we hope will happen in the next 20 years and beyond. Look at the contemporary hardscape in this image below. The beautiful lines and the detail in the paving complement the naturalistic planting perfectly, without either overshadowing the other.


Given the scale of the project, the designers could have chosen any kind of planting style. The plants that had self sewn and were growing wild on this disused space, however, are ultimately what informed and inspired the planting choices. A naturalistic planting style was chosen, incorporating mixed drought tolerant perennials that evolved throughout the seasons, as illustrated perfectly in this image below. You could expect for the garden to look different each time you visited.


It's no fluke that the High Line is now one of the most visited gardens in the world. As cities become more built up and technology continues to advance, we foresee this naturalistic approach to both public and private spaces becoming more common as people seek to escape to an oasis within their own city. The introduction of naturalistic planting gives people a place to go where they can connect to nature.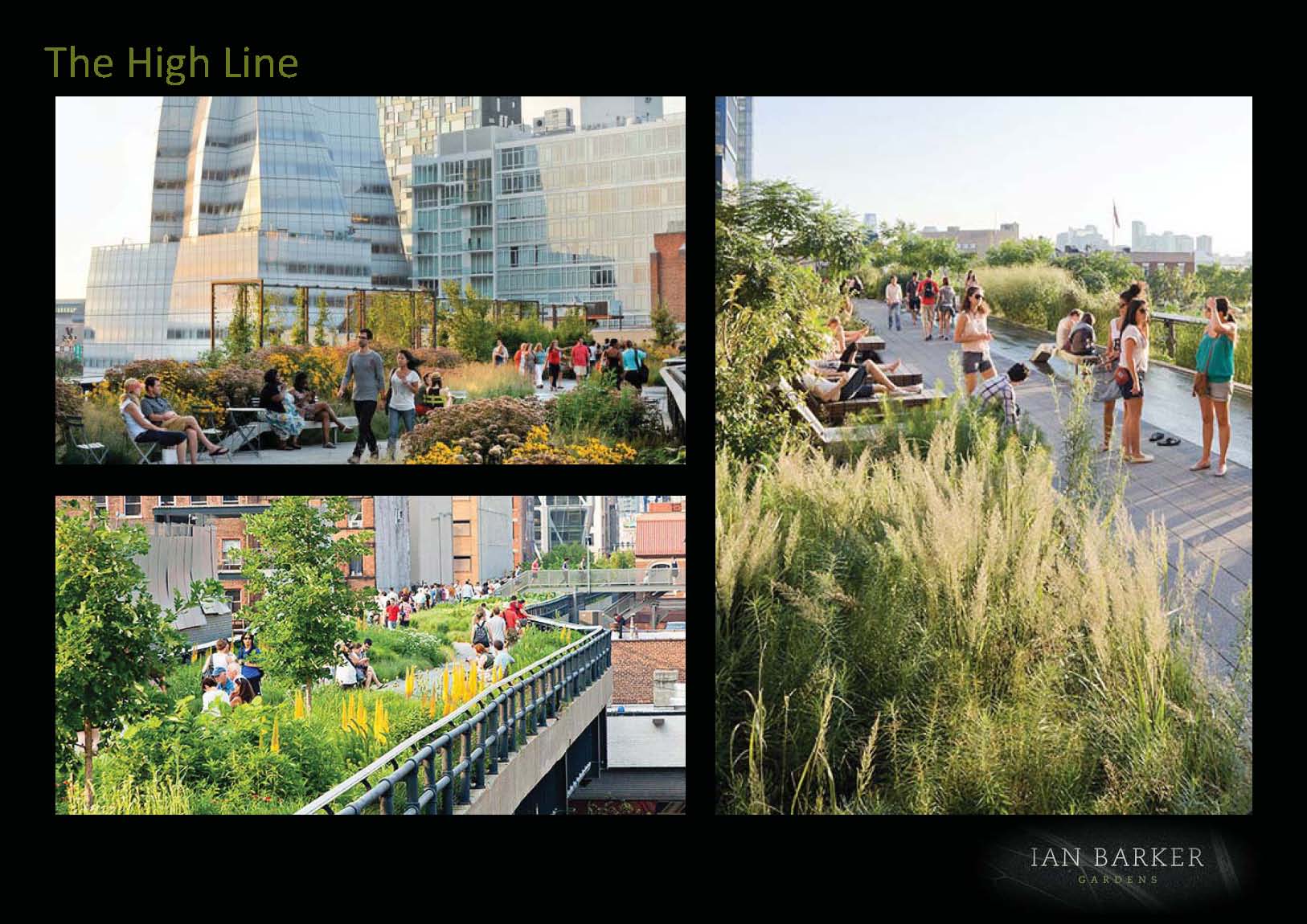 In this presentation I've talked about my top 5 design influences and where I see our work heading in the future. If you would like to know my top ten, I have listed them in another blog post, where you can also find our Design Manager, Bethany's top ten. I'd love to know who your top influences are. If you'd like to share, please visit Ian and Bethany's Top Ten Landscape Designers and let us know who's in your top ten!