Investing in a new garden is a big commitment. Not only is it essential to create a beautiful space that will add value to your home, but one that meets your lifestyle needs and personal tastes. When the owners of our Glen Iris project decided it was time for a garden revamp, they enlisted our services to design something that suited them to a tee.
The home and existing garden had an inherent Spanish/Mediterranean feel to it, particularly in the rear garden so it was important to the owners for this to be carried across into the new garden in order to compliment the house but still keep to the traditional planting style that our clients are so fond of. Other than this, their principal requirements were for a large entertaining area, a pizza oven and a small produce garden to satisfy their love of cooking and entertaining friends and family.
Style wise, they wanted their dream garden to be balanced and structured and to incorporate a strong focal point that would catch the eye from the moment you step through the front door of the house. It's important for us to understand our client's individual needs and find ways to incorporate these into the design in the most functional and aesthetically pleasing way possible.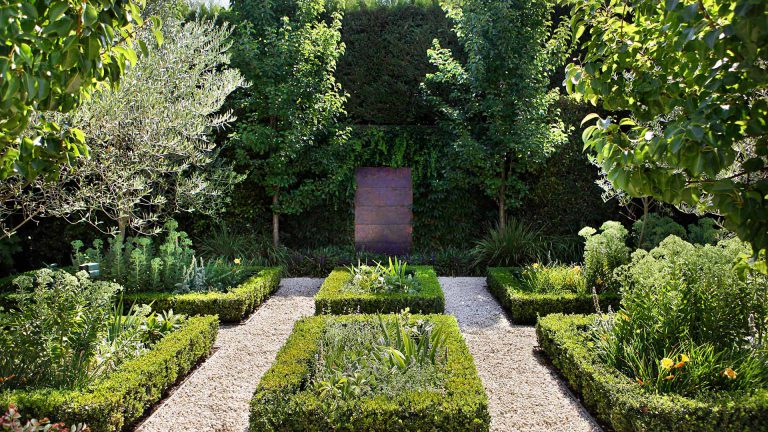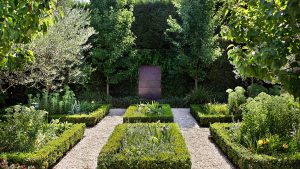 Considering our clients immense love and passion for plants, we suggested that they consider foregoing the traditional rear lawn in favour of having a plant focussed garden instead. Although not something they had originally considered, the resulting garden is a beautifully lush parterre garden containing a gorgeous mix of some of our clients favourite plants.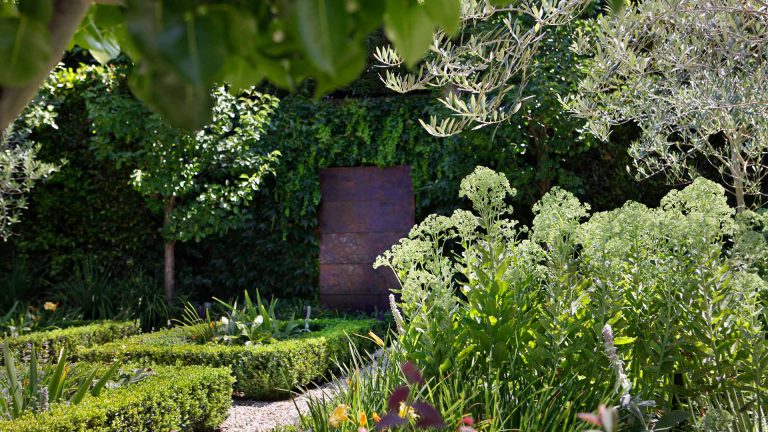 A key element of the garden design is the water feature by Rudi Jass in the centre back wall of the garden consisting of a copper wall with running water spilling over its mottled surface into a small pond and surrounded by creeping Boston Ivy. Just as our clients wished, this feature acts as the focal point of the garden while adding a peaceful tranquillity to the space.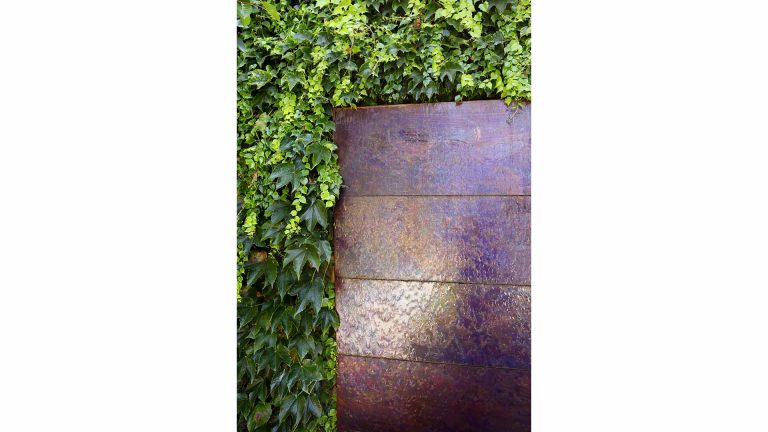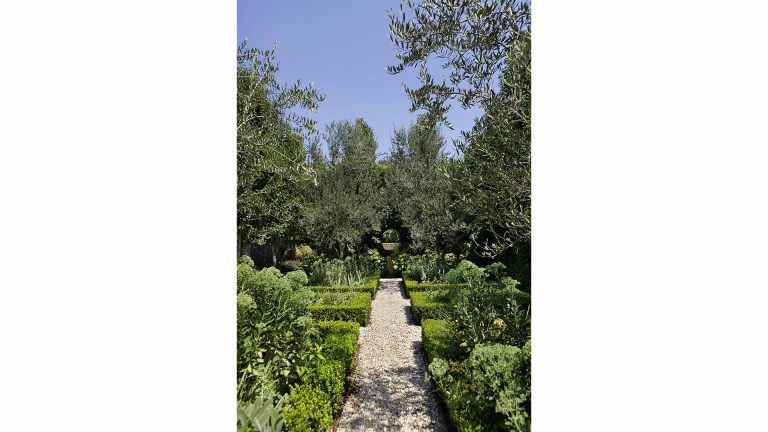 The finished garden has strong Mediterranean influences but remains very balanced, structured and traditional throughout. It is the sort of formal garden that could work with a variety of different homes but does so particularly well here due to the careful attention paid to the Mediterranean touches.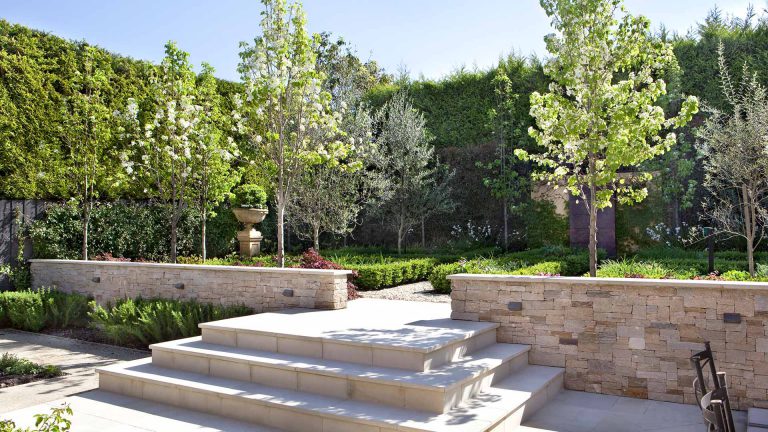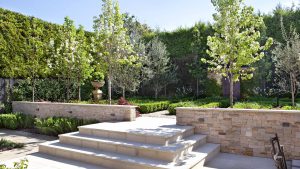 'Camel' sandstone paving and steps lead up to the raised main area of the rear garden, which features the parterre design encapsulated by a large existing hedge and enclosed with an 'alpine' stone clad retaining wall. The parterre is framed with a row of Manchurian Pear trees that blossom gloriously in the Spring. The six separate garden beds are edged with English box hedge creating the formal structured look, and are surrounded by 'Torquay' river pebbles. The beds contain a varied and ever-changing mixture of plants, including Hellebores, Nepeta, Sedum, Bearded Iris, Daylily and Olive trees.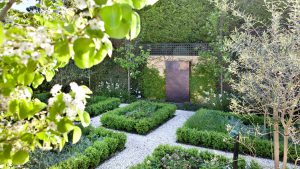 Plants were chosen that worked well together and that would vary throughout the seasons, creating interest all year round. Careful thought was given when selecting plants to keep the Mediterranean feel alive. This was achieved by choosing plants such as Olive trees but also by using a mixture of leaf colours in the palette (a blending of grey-green and black-green). The flowering colour palette contains burgundy, mauve and white with sprinkles of yellow to evoke a feeling of sunshine.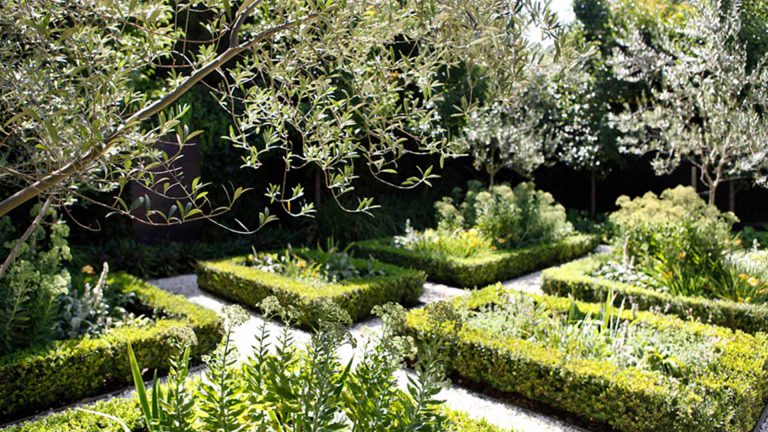 The owners couldn't be happier with their completed garden. It meets their brief on all aspects from beauty through to functionality. With the future in mind, our clients look forward to seeing their garden continue to grow and flourish. Despite not having a traditional lawn for kids to play, the pebble paths provide spaces for small children to run up and down and the abundance of plants in the garden beds create a make believe forest to discover. Our clients excitedly envision their future grandchildren exploring in the garden and developing their own passion and appreciation for plant life.