At Ian Barker Gardens, we pride ourselves on helping all of our employees fulfil their future dreams and openly encourage career development, wherever that may take them. We're thrilled to say that we still work with many of our past employees, and Dave Bascombe is one of them.
After seven years working as a landscaper in the Ian Barker Gardens construction team, Dave took a leap of faith and launched his own landscape construction company, Green Exteriors. Green Exteriors specialise in high-end residential construction aimed at achieving a contemporary and unique product.
We sat down with Dave to discuss why he became a landscaper, his time at Ian Barker Gardens and the challenges of becoming a business owner.
So, take us back to the beginning – when did you first enter the industry and what attracted you to it?
I started landscaping during the summer after I had finished year 12. I had always planned on going to university to study photography, but during the holidays, a family friend asked me to give them a hand at landscaping, and I haven't looked back since! I began working as a casual labourer and then started my apprenticeship for four years.
When did you join the Ian Barker Gardens team?
I started with Ian Barker Gardens as a qualified landscaper in 2012 and worked with the company for just under seven years.
What are some of your favourite memories working here?
The flower shows! They are extremely long hours and hard work but totally worth it. I wish I could have gone to the Chelsea Garden Show with them a few years before.
When did you decide to create Green Exteriors?
I started to feel a little too comfortable in my position while working for Ian, and I wanted to push myself and take the next step. So, I decided to take the leap, gave Ian plenty of notice and started my own landscape construction company, Green Exteriors.
How did you go about transitioning from your role at Ian Barker Gardens to creating your own business? How did the business support this?
The transition was a little daunting. I had gone from a steady job to not knowing where my next job would come from. If I have learnt anything from working with Ian, it was that quality work is remembered. Steve (Ian Barker Garden's Construction Manager) was also a massive help; I learned so much about landscaping from him. Even today, I still call him with random questions and ask for advice.
Has there been anyone else in the industry who has supported you as a business owner?
Yes, and I'll take this opportunity to say a big thank you to Landscaping Victoria! I became a member as soon as I started my business. Before COVID, they held some great events where we could meet with other industry people, including designers, suppliers, and contractors. It really helped me to network with other people and to be able to speak with others in the industry who love the same thing you do.
What is the best part about owning your own business?
Being able to teach your own apprentices and watch them develop their own skills.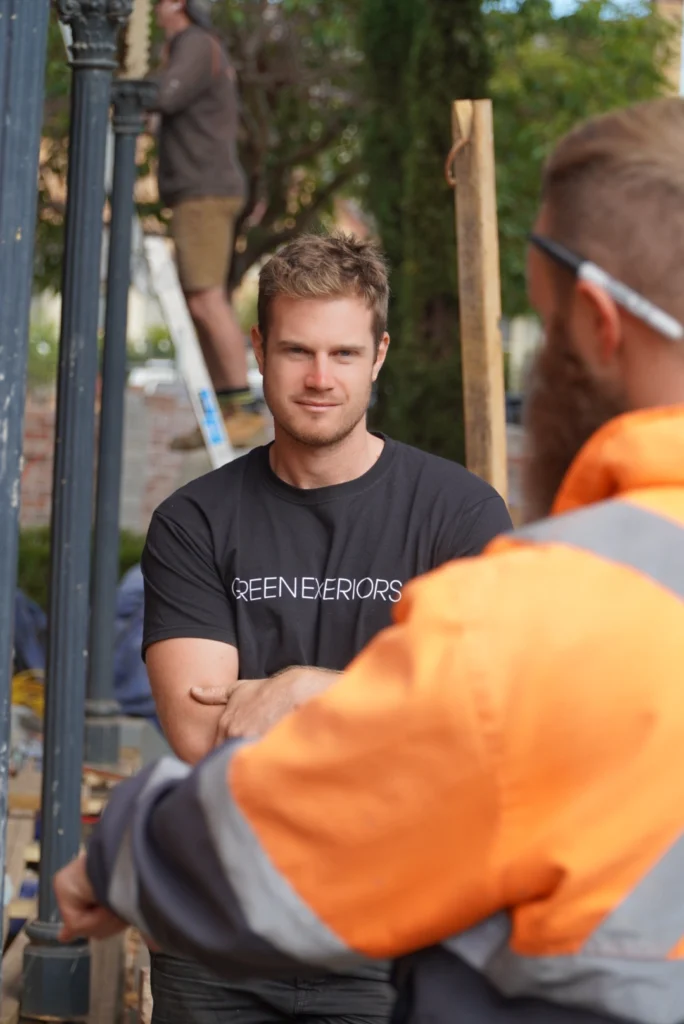 What has been the most challenging?
Time management and having to say no to work. It can also be quite difficult to ask an apprentice to do a job that might take you one hour, and they will take four.
Do you have a favourite project you've worked on/ is coming up?
The most difficult but most rewarding job was our Ivanhoe project. The job is located on The Boulevard and a very steep hill, and it took all of my patience, and probably the teams as well, to complete. I can't thank the team enough for soldering on to completing the project. We did run over the schedule, and I have to thank the clients for being so understanding. It will be amazing to see how much this garden will evolve and blend into its surroundings in a few years.
Do you still work with Ian Barker Gardens? And if so, how?
Ian has been a great mentor for me while I was working for him, and he continues to be. He has plenty of wisdom and is quite the master of his craft. We also construct some of the gardens designed by the Ian Barker Garden's team, so we're always in touch one way or another.
What would be your advice for someone wanting to enter the industry?
It's not easy! It's hard, it's cold, it's hot, there's no hiding from the elements. But it is so rewarding being able to look back and see what you have created with your own hands.
What are your hopes for Green Exteriors in the future?
Continue to work with leading designers in the industry and potentially build a leading construction company in that industry. I also want to continue building quality gardens with people who have a genuine interest and passion for the trade.
What would be your advice for someone considering applying for a role at Ian Barker Gardens?
Take the opportunity! One of the best decisions I ever made was working for Ian Barker Gardens. You get paid to work with one of the leaders in the industry that will teach you the skills you need to be a professional.
Interested in joining our team? We are always willing to meet like-minded and committed individuals who are keen to join us. If you are interested in working in our design, construction or garden maintenance team, please click here.
You can also follow Dave and Green Exterior's journey on Instagram at @greenexteriors.