When downsizing, property owners can often feel a sense of loss in what they've given up. Our Canterbury client was experiencing just that when she approached us midway through 2017, looking for a way to give the landscape surrounding her new build, the same feeling her previous family garden in Camberwell had given her. An avid gardener, she was keen to get back outdoors, into a garden that she enjoyed and felt connected to.


The brief for the front landscape was to produce a classic feel gardener's garden, full of beautiful flowers that complimented the existing pathway to the property's entrance. Part of a duplex townhouse, it was important that we clearly differentiate this space from the neighbouring property. And with less garden space than accustomed to, it was also vital we consider ways to maximise the garden area for our client.
Due to the nature of a new build home, we were faced with soil that was uninhabitable for plants. Rubble, stone and debris, had to be removed before even considering introducing new plant life.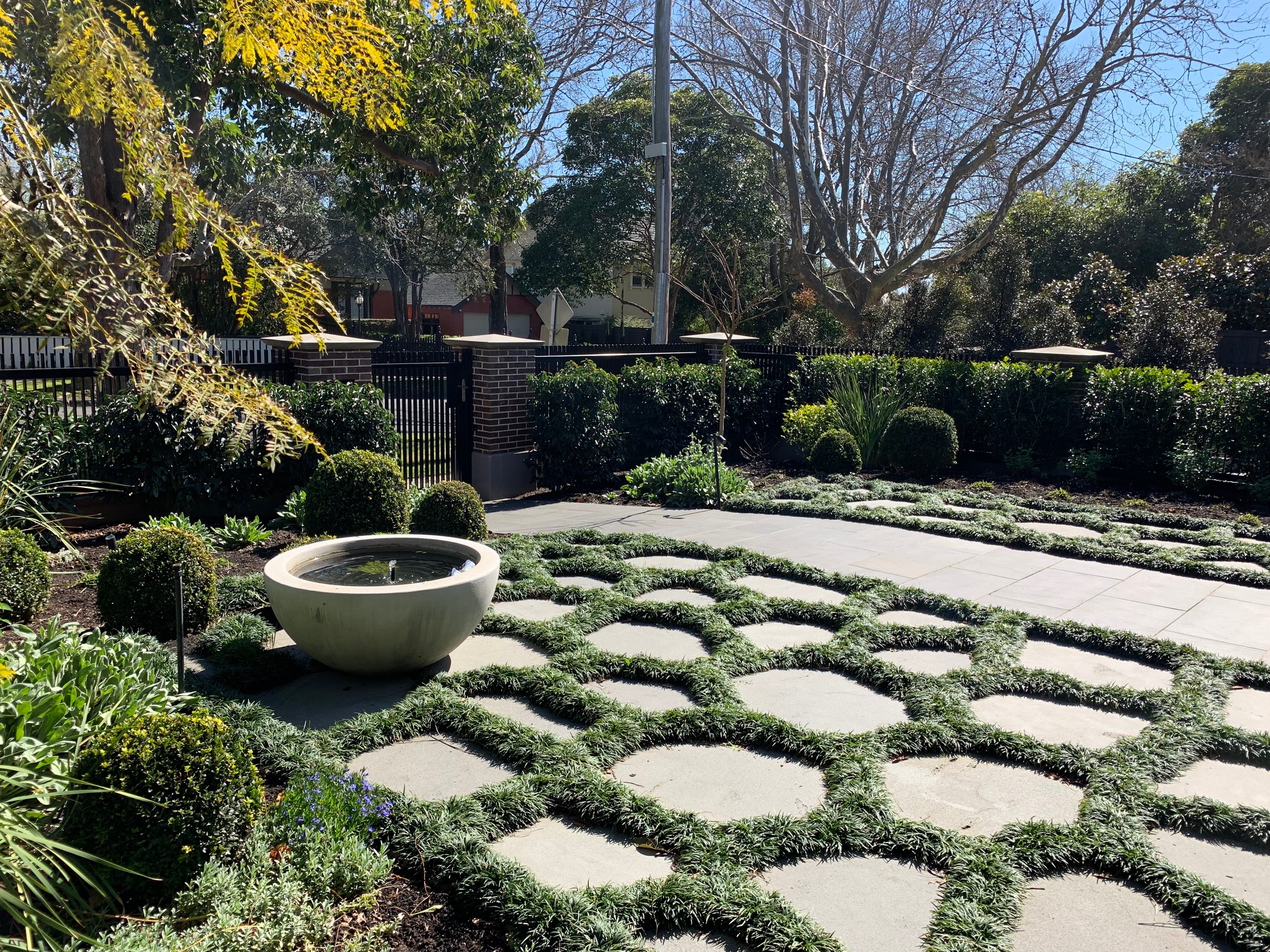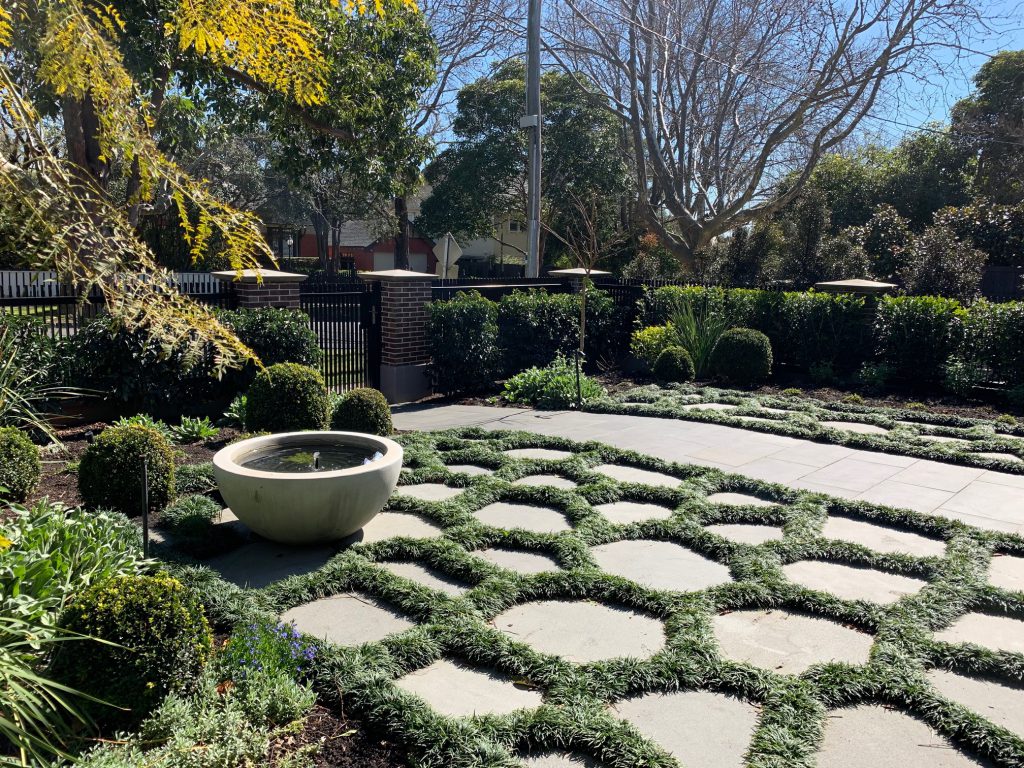 Designing generous planting beds as opposed to flush up against the boundary helped create the illusion of more space. Including random steppers entwined with mondo grass helped to create a striking point of difference from the neighbouring dwelling. These steppers also help anchor the softening planting and add another textural element and dimension to the garden design.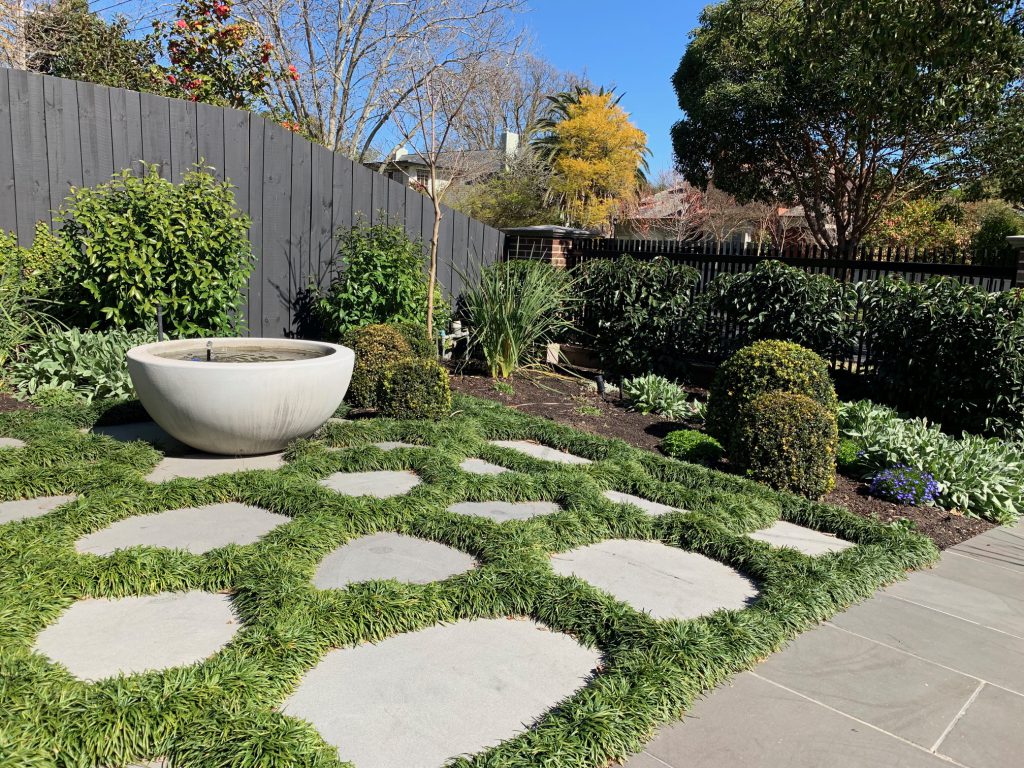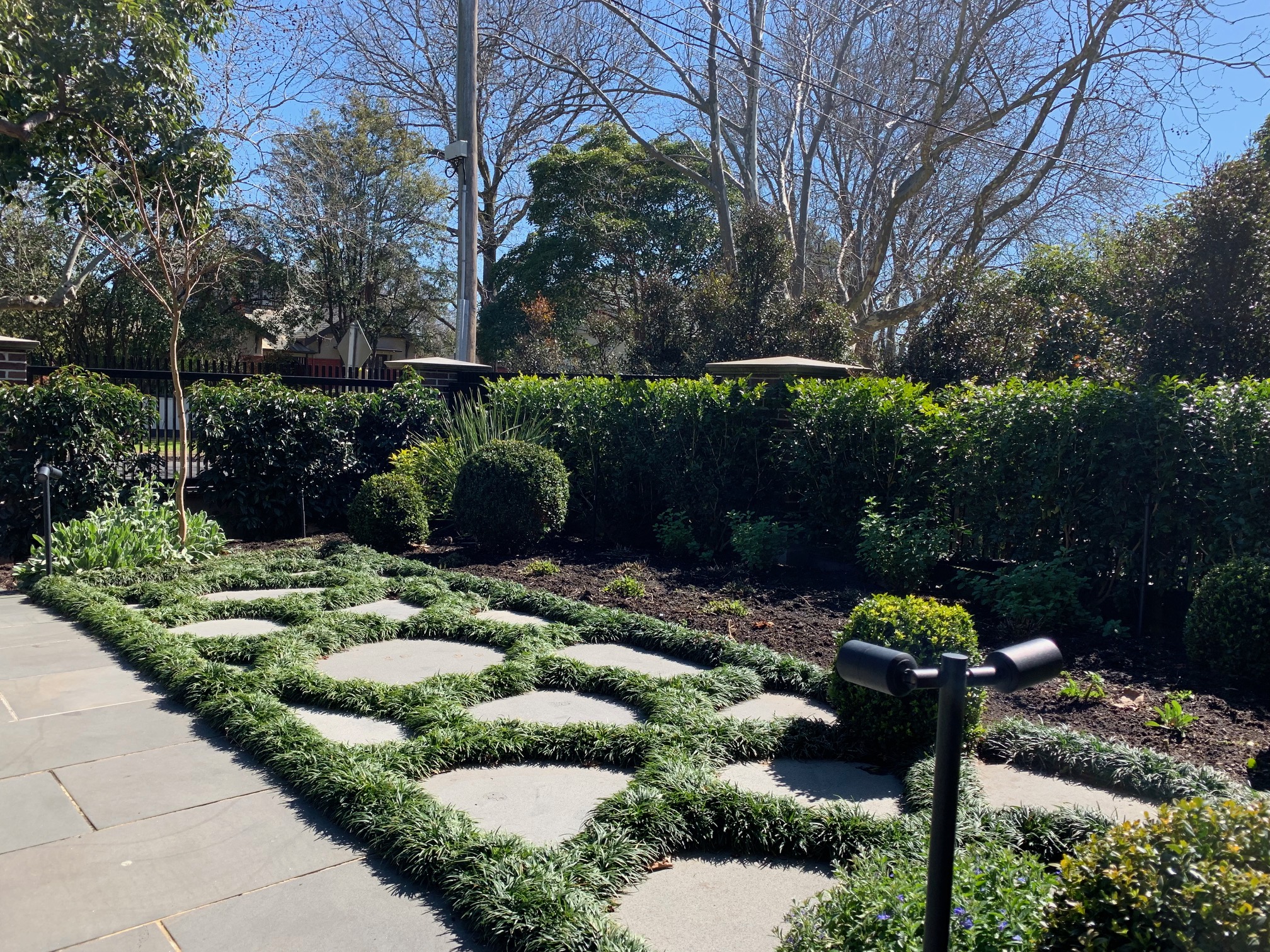 Continuing on with the theme of gardener's garden, a priority for the rear landscape was to remove the unnecessary steps from the back door and replace with a single level surface. To ensure our Bluestone tiles ran flush with the property we used a handy product called Elmich VersiPave. This product is height adjustable and acts as a foundation for pavers to be laid – water drains through the gaps and onto to the ground underneath. The water then drains away.
The rear garden was in desperate need of protection from the harsh sun. Wires were erected from the existing pergola to add a 3 dimensional element to the space, that will eventually be overtaken with Parthenocissus tricuspidata for cooling greenery. A feature Cornus florida 'Flowering dogwood' will offer respite from the heat as it grows whilst act as a screening device to disguise neighbourning dwellings. For added privacy and shade, pleached ficus have been planted and will continue to be more and more effective as they mature. We chose Ficus for their height and the ability to add interesting underplanting. Sarcococca confusa 'Sweet Box', Buxus sempervirens sphere, Daphne odora, Hydrangea macrophylla and a mix of Aquilegia and Campanula poscharskyana were all included to tick off the beautiful flower checklist our client was so passionate about.
Raised herb planter beds were also constructed to allow additional planting and dimensions to this area of the garden. We chose varieties such as Thymus vulgaris 'Common Thyme', Mentha SSP 'Mint', Rosmarinus officinalis 'Rosemary', Thymus citridorus 'Lemon Thyme', Petroselinum crispum 'Parsley', Allium schoenoprasum 'Chives', Oregano vulgare 'Oregano', Coriandrum sativum 'Coriander' and Salvia officinalis 'Sage'.
We're thrilled to hear that our client now feels as though her new home is complete and that she is once again outdoors enjoying her gardening.
Professional photos to come, stay tuned.