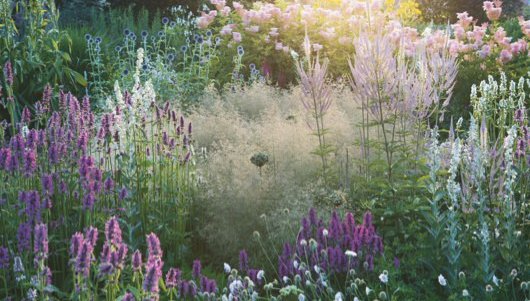 In 2008, we were lucky enough to compete for the first time at the prestigious Chelsea Flower Show in London. It was here that we fell in love with the new perennial movement that has existed across Europe for a number of years but is yet to reach Australian shores. In particular, we have developed an immense appreciation for the work of Piet Oudolf, the much admired landscape designer from Holland who is widely considered by those in the landscaping world, to be the father of the new perennial movement.
It has been our mission over the last few years to study all there is to know about this movement and learn as much as we can in order to recreate this style of garden in Australia with plants that will survive in our very unique climate. We have been following the career of Oudolf as well as a number of other similarly minded landscape designers across Europe and in addition to this, conducting our own research a little closer to home.
It's probably a good idea to begin by giving a brief background on the perennial movement for those who are not familiar. Whether it is referred to as the 'New Perennial Movement', the 'Dutch Wave', or even as 'prairie', 'meadow' or 'naturalistic' planting, what we are talking about here is a landscape style that involves the planting of an array of herbaceous perennials and grasses in bold drifts in a 'natural' or 'wild' fashion.
To be clear, the new perennial movement is not 'planting by numbers' and it goes way beyond the traditional herbaceous border which, while often spectacular, is much more manicured and artificial in appearance and usually exists on a much smaller scale bordering a formal or structured garden. The new perennial movement is about creating a garden design that while carefully planned, mimics the feeling of nature. It is typified by a repetition of colours and plant varieties to create a natural flowing aesthetic and vast sweeping drift patterns with intertwined combinations of mixed perennials and grasses.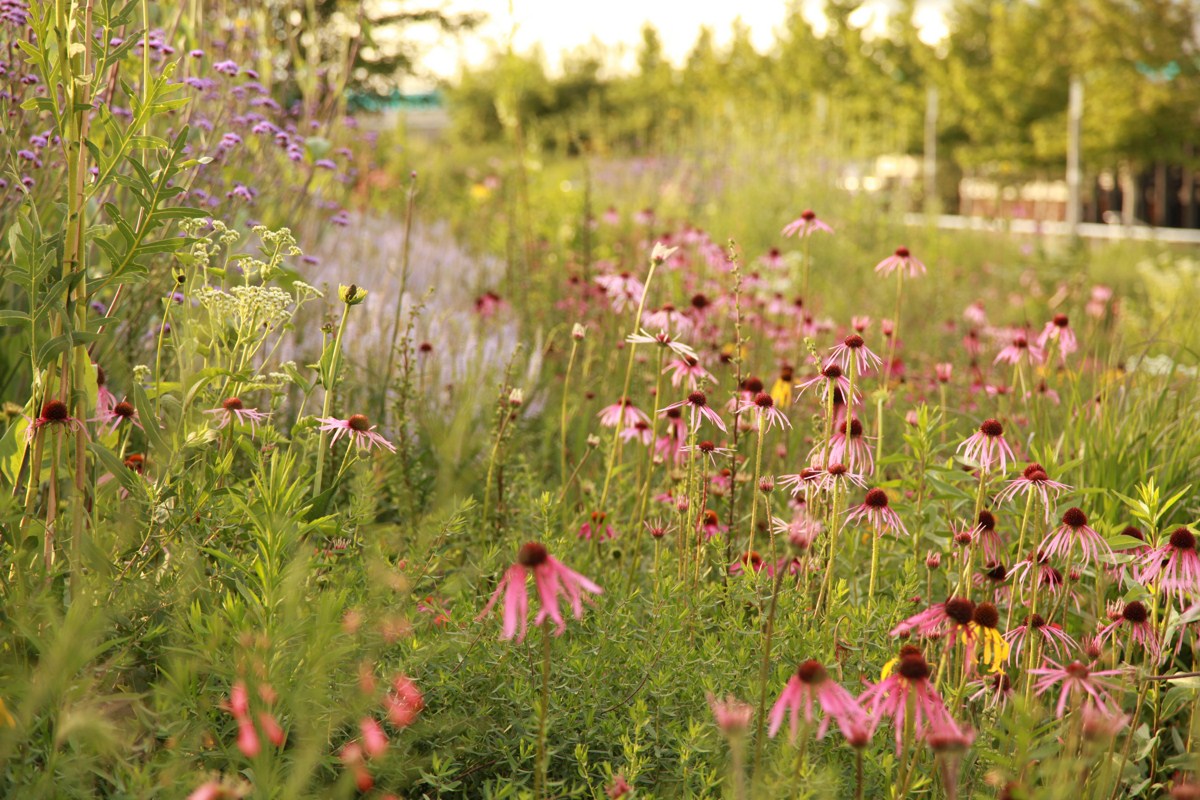 Perennial gardens usually work best on a larger scale – both from a distance and when standing within the garden you can see the waves of colour repetition that flow throughout the garden and direct your eye through the space. The free flowing plants and in particular, the grasses utilised in this style of planting, enable movement in the breeze and glow when illuminated by sunlight. The resulting gardens can be dynamic and resplendent in their warm ambience and are a complete contrast to the heavily manicured and stilted look that formal gardens can possess.
There is a focus on choosing the right plants for the right place without having to alter the existing growing conditions and to use plants and grasses that are hardy and will last throughout the seasons. When you think about it, it makes perfect sense to grow the plants that are best suited to a particular environment and will thrive without intervention. These gardens are ecologically sound, integrating seamlessly into the surrounding pre existing environment.
The objective of the new perennial movement is to create a space where people can make an emotional connection to nature by experiencing the freedom that comes from standing in a meadow, surrounded by the spontaneous feeling of nature and being able to escape our increasingly urban lifestyles. As much as this type of garden is organised and planned, the idea is to imitate the natural environment and establish a link to nature regardless of the surrounds.
While the new perennial movement really took off in the 1990's in Europe, it had its origins much earlier than this. In 1870 the Irish gardener and journalist William Robinson wrote The Wild Garden advocating naturalised plantings of hardy perennials and moving away from formal planting schemes and the High Victorian patterned gardens. He took plants that would grow well in the wild and put them into people's gardens.  His own garden at Gravetye in Sussex was a perennial wild garden that was based on the natural environment. Robinson's wild gardening principles led to what eventually became the English cottage garden and laid the foundation for many influential garden designers to come, Piet Oudolf one of them.
Although Oudolf is considered as the father of the new perennial movement, there were and are other key players in the development of this movement such as plant breeders and garden designers, Karl Foerster, Mien Ruys, George Arends, Ludwig Winter and Ernst Pagels who were all influences on Oudolf. However, it is Oudolf who has brought perennial planting to the world's attention. He is certainly a leader and innovator in his field, creating beautiful and breathtaking gardens all around the world.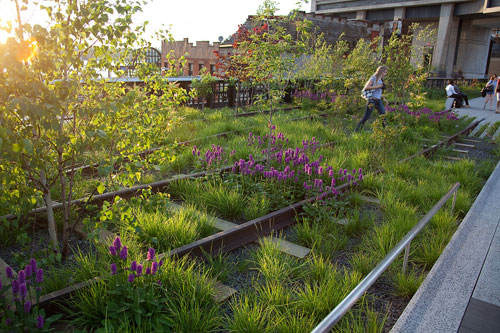 Oudolf's ability to borrow certain elements from formal gardens of the past and blend them with the principles of wild gardening to produce his own brand of garden design is truly inspiring. The plant focussed revolution pioneered by Oudolf has changed our understanding of plants in the landscape. Not only are species chosen based on their suitability to the local growing conditions and their hardiness, but also for their aesthetic appeal – a convergence of ecology and design. When it comes to aesthetic appeal, however, Oudolf will be more likely to choose a plant based on its form and structure over its colour.
His style examines the complete lifecycle of plants, with selection based on whether they are as interesting in spring as they are in winter and if they are as beautiful dead as they are alive. Oudolf believes that the real test of a garden isn't "how nicely it blooms but how beautifully it decomposes". He understands the beauty of seed heads and the bare bones of a plant, and embraces this in order to extend the lifecycle of his gardens throughout the seasons. Rather than planting masses of pretty plants next to each other at random, Oudolf considers how his plants will age and transform over the course of time and how each plants relates to and interacts with the ones around it.
The colour scheme of an Oudolf garden is also carefully planned and thought out. He develops a colour palette for each garden with percentages of colours corresponding to different plants, which he will blend to create the drifts and waves. When planted, both his deliberate choice of structurally interesting plants and specific colour combinations contribute to the painterly and harmonious, yet tactile feel his perennial gardens are so famous for.
As you can probably tell, we are quite enamoured by Oudolf's gardens as well as those of some his contemporaries currently working in the industry who have used the new perennial movement to inform their own styles such as Tom Stuart-Smith, Sarah Price and Andy Sturgeon. Studying their planting styles is great research for us, as garden designers in Melbourne, to develop our own interpretation of this movement so that we can successfully adapt it to the Australian environment.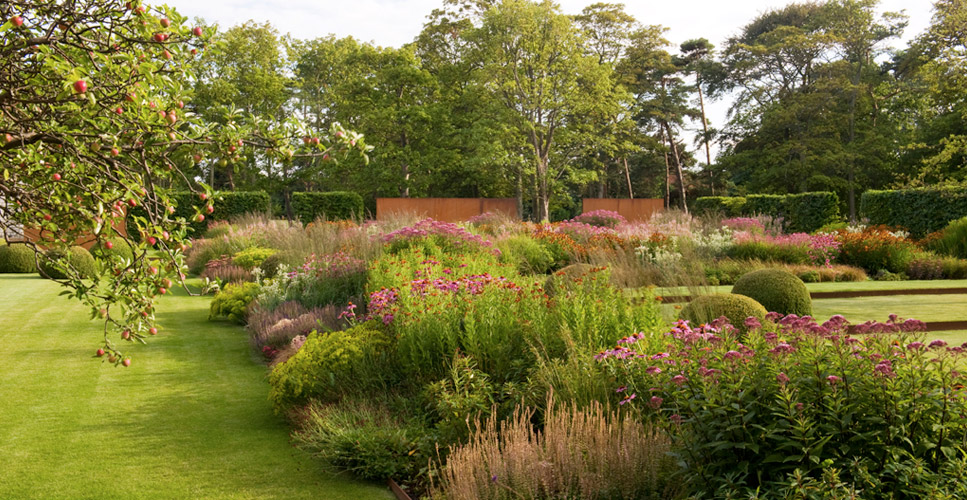 Our other research involves meeting once a month for a 'bookclub' of sorts, where we get together with other like minded people in the industry to discuss all things perennial! We also make it a habit to visit particular gardens in different regions of Victoria once a quarter to observe and analyse what is happening with the plants and see what survives and thrives throughout the seasons in different locations. (We have some amazing images of these gardens that we are excited to share with you in upcoming blogs!)
Thus far, we have found the best garden to help us with our perennial planting mission is Lambley's Garden in Ascot, Victoria run by David Glenn. We are extraordinarily grateful that we have had the opportunity to learn so much from David and his garden whenever we visit and its sad to think that the vast depths of his knowledge will one day be lost.
The plants that have been tested at the Dry Garden at Lambley survive on little to no water despite the extreme climate changes that occur throughout the year in this part of Victoria. Visiting here allows us to see which plants will survive in what can be some extremely harsh conditions and will help to inform our plant choices when we are designing perennial gardens in the future. We will continue to use Lambley Nursery as an invaluable source of information on what plants will survive in our dry climate while still achieving spectacular floral displays
Our first foray into adapting the new perennial movement to Australian conditions will put our research to the test with our garden at the upcoming Melbourne International Flower and Garden Show (MIFGS) entitled "The New Wave". All of us at Ian Barker Gardens are immensely excited to bring it to life and there is much buzz around the office as we count down the days till our garden design is unveiled on March 20th at the Carlton Gardens in Melbourne.
We would like to thank all our sponsors, in particular Flemings Nursery who are providing all the plants for our garden as well as giving us access to two of their perennial experts to help further our knowledge and ensure that the plants will be at peak condition for the show.
Here are some of the plants that will be highlighted in our MIFGS garden:
Watch this space for more news about Ian Barker Gardens at the Melbourne International Flower and Garden Show and for future blogs where we will share some spectacular images and discuss our thoughts on the gardens at Lambley as well as some of the other gardens we visit on a regular basis including Cloudehill in the Dandenong Ranges, Heronswood on the Mornington Peninsula and St Erth in Blackwood.
Stay tuned…….
References http://www.oudolf.com/piet-oudolf http://sarahpricelandscapes.com/ http://www.tomstuartsmith.co.uk/ http://dirt.asla.org/2010/05/11/piet-oudolf-leader-of-the-new-perennials/ 'Piet Oudolf, Leader of the New Perennials' by J. Green http://www.thegardendesignblog.com/#/blog-home/4571508366/New-Perennial-Movement/4778292 'New Perennial Movement' by Alexandra Froggatt http://holland-herald.com/2011/09/natural-charm/ 'Natural Charm' by Julia Gorodecky http://thinkingardens.co.uk/articles/naturalistic-planting-is-anything-but-by-michael-king/ 'Naturalistic Planting is Anything But' by Michael King http://allanbecker-gardenguru.squarespace.com/journal/2010/7/12/piet-oudolf-with-noel-kingsbury-write-about-designing-with-p.html 'Designing with Plants: Book Review' by Allan Becker